From Albert Adams to Portia Zvavahera, Strauss & Co maintains a detailed database of every artist sold at auction since 2009. Whether it is painting, sculpture, works on paper, photography, ceramics or new media, this searchable database lists by artist every lot offered and provides aggregated data useful to collectors. Famous South African artists like William Kentridge, JH Pierneef, Alexis Preller and Irma Stern are introduced with helpful biographies along with the best contemporary artists.
---
Value your Art?
Do you know the value of your Art?
Zwelidumile Geelboi Mgxaji Mslaba 'Dumile' Feni
---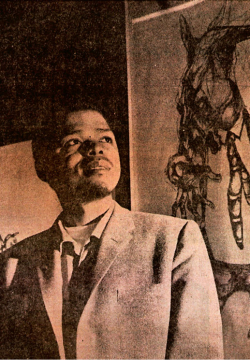 Described as the 'Goya of the townships, Dumile (Zwelidumile Geelboi Mgxaji Mslaba) Feni was a South African figurative artist who portrayed the life around him and the struggle and suffering he witnessed of people living in the townships under the apartheid era. Known for his emotionally-charged expressive imagery, he worked primarily in monochrome, through the media of drawing, painting and sculpture. He was apprenticed at a sculpture, pottery and plastics works in Johannesburg in the 1960s, but a meeting with Ephraim Ngatane while both were recovering at a tuberculosis sanatorium set him on the path to becoming a professional artist. The two painted a series of murals at the hospital and after being discharged, Feni began attending the Jubilee Art Centre, then under the direction of Cecil Skotnes.
Feni's work was selected to represent South Africa at the São Paulo Biennial in 1967, but after severe criticism for having agreed to represent the apartheid regime, and also falling foul of the restrictive pass laws that prevented free movement in the country at the time, Feni chose to go into exile in London in 1968. He lived the remainder of his life in Los Angeles and then New York, where he passed away expectedly in 1991.
One of the most important works in Feni's oeuvre is African Guernica (1967), in the University of Fort Hare Collection. This was selected as one of the most significant works in South African art history and displayed in the Javett Art Centre's opening exhibition, 101 Collecting Conversations, at the University of Pretoria in 2019.
Source of image: revisions.co.za
---
55 lots offered 70.91% sold ZAR 4 705 406

Including Premium and VAT
Results include Buyer's Premium and VAT
Results in green indicate post sales.
---