From Albert Adams to Portia Zvavahera, Strauss & Co maintains a detailed database of every artist sold at auction since 2009. Whether it is painting, sculpture, works on paper, photography, ceramics or new media, this searchable database lists by artist every lot offered and provides aggregated data useful to collectors. Famous South African artists like William Kentridge, JH Pierneef, Alexis Preller and Irma Stern are introduced with helpful biographies along with the best contemporary artists.
---
Value your Art?
Do you know the value of your Art?
Ravelle Pillay
---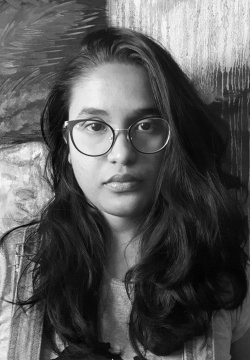 Ravelle Pillay is a Johannesburg based artist working primarily with painting and drawing. She was born in Durban, South Africa and moved with her family to Lenasia in the south of Johannesburg soon after. They relocated to the holiday resort Sun City, in the North West Province when she was eight. She holds a degree in Fine Art from the University of the Witwatersrand.
Pillay's work is informed by ideas of family, migration and nostalgia, as well as personal and collective memory. Working primarily in painting and drawing, her practice has evolved from a process of archiving. She often draws from personal, family, found, and borrowed photographs.
Pillay is concerned with the material degradation of memory objects over time, especially photographs, as a way to consider the unreliability of memory and witnessing, questioning the act of remembrance. Her practice is concerned not only with the archival but with the material possibilities of painting. She often uses chemically incompatible mediums, allowing them to interact in accordance with their natures on the surface of the canvas.
Her work has featured in exhibitions in Johannesburg and Cape Town, most recently in the group exhibition Silence Calling from One Continent to Another at the Goodman Gallery, Johannesburg. Pillay's work was featured in the 2021 FNB Art Joburg week and her work will be shown at the 2022 Investec Cape Town Art Fair.
---
We have not offered any works by Ravelle Pillay at auction
Please contact us if you have any further enquiries.