From Albert Adams to Portia Zvavahera, Strauss & Co maintains a detailed database of every artist sold at auction since 2009. Whether it is painting, sculpture, works on paper, photography, ceramics or new media, this searchable database lists by artist every lot offered and provides aggregated data useful to collectors. Famous South African artists like William Kentridge, JH Pierneef, Alexis Preller and Irma Stern are introduced with helpful biographies along with the best contemporary artists.
---
Value your Art?
Do you know the value of your Art?
Wayne Barker
---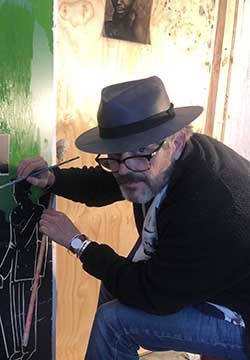 Wayne was born in Pretoria, South Africa, in 1963 to a white, conservative, working-class family. Wayne's father was a South African Air Force pilot, later turned commercial pilot, and Wayne and his siblings grew up on the Valhalla military base in Pretoria. After studying at Pretoria Technicon and half-completing a degree at Michealis, Wayne returned home in 1983. He evaded military service by pretending to be mentally unstable and –having been disowned by his parents – set himself up as an artist in Johannesburg. Wayne later went on to pursue an honorary postgraduate degree in Fine Art at the prestigious École des Beaux-Arts in Marseilles, in 1998. Waynes's name has become synonymous with rebelliousness and recklessness. He has been referred to consistently as the enfant terrible of the South African art sphere. Wayne's Famous International Gallery (FIG) was a turning point in the exhibition of South African contemporary art between 1989 and 1995. An artist-run space, the Gallery was a place for younger artists to exhibit their work. Many of these artists eventually rose to prominence, including Kendell Geers, Minette Vari, Barend De Wet, and Stephen Cohen. In 1993, a year after the end of the Mozambican civil war, Wayne created a large-scale installation piece at the Everard Read Gallery entitled 'Coke Adds Life'. The installation was inspired by a trip to Mozambique, in which Wayne visited a hospital and found several Coke vending machines but no doctors. 'Nothing Gets Lost in the Universe' was Wayne's third solo show, shown at the FIG Gallery in 1995, and later the Gallery Frank Hanel in Frankfurt. Informed in part by the Truth and Reconciliation Commission, the exhibition consisted of latex gloves filled with objects found on the streets of Frankfurt as well as a larger installation of photographs, called 'Zelbst', in which over 300 portrait photographs of black people in the 1970s South Africa were suspended from the ceiling.
In the early 90s, Wayne started an investigation that would span over two decades. Taking the work of the Afrikaner nationalist landscape artist JH Pierneef (1886–1957), Wayne began to disseminate what remains to this day a highly contested issue in South Africa – land, colonialism, and ownership. Wayne would painstakingly recreate Pierneef's landscapes before introducing other elements to them – including neon dots, splatters of lacquer paint in neon colour, overlaying images he would pick (nudes, "church ladies", and popular logos) to elaborate on issues surrounding land, contestation, and desire in his own time. The Pierneef series has seen iterations in various media, finding itself translated into print media as well as in his collaborations with the Qhubeka Bead Studio in Cape Town.
Wayne remains a prolific and active figure in the South African contemporary art scene. In addition to 'Super Boring' (2010), a large-scale retrospective of his work at the Standard Bank Galleries in Johannesburg and Polokwane, as well as the SMAC Gallery in Cape Town, Wayne has had two recent large-scale exhibitions of new work at CIRCA in Johannesburg. His most recent exhibition, 'The World that Changed the Image' (2016), shown at the Everard Read in Johannesburg, consisted mainly of new screen-printed works. Wayne lives and works out of his studio in Troyeville, Johannesburg, with his wife. He has lived in the area for several years, earning him the affectionate title "the Mayor of Troyeville". He has two daughters.
---
53 lots offered 47.17% sold ZAR 940 954

Including Premium and VAT
Results include Buyer's Premium and VAT
Results in green indicate post sales.
---