From Albert Adams to Portia Zvavahera, Strauss & Co maintains a detailed database of every artist sold at auction since 2009. Whether it is painting, sculpture, works on paper, photography, ceramics or new media, this searchable database lists by artist every lot offered and provides aggregated data useful to collectors. Famous South African artists like William Kentridge, JH Pierneef, Alexis Preller and Irma Stern are introduced with helpful biographies along with the best contemporary artists.
---
Value your Art?
Do you know the value of your Art?
Job Kekana
---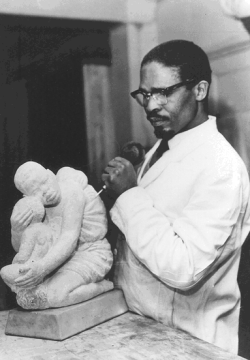 Exhibiting a talent and skill for wood carving as a young herd boy, Job Kekana was encouraged to further his education and training at Grace Dieu Mission after attending St Stephen's in Rooisloot, Limpopo. Under the guidance of Sister Pauline and with the influence of Ernest Mancoba, Kekana began to develop his signature naturalistic style. Learning to create sculpture in the conservative ambiance of the mission school rather than in a more exploratory 'fine arts' context had an understandable influence on his style and subject. Kekana excelled at Grace Dieu and continued to produce work at the mission until 1939, creating carvings for churches and missions – for both national and international clients. Kekana left Grace Dieu to work independently in Johannesburg for five years, beginning to explore more secular subjects in conjunction with religious narratives. However, his restricted opportunities in South Africa led to him relocating to Zimbabwe (then Rhodesia) at the request of Sister Pauline to join the workshop she had established. His work was widely dispersed as he continued to create church commissions. Due to the popularity of his work, religious and secular, he was able to travel to England and Europe in 1960. Here he was awarded the opportunity to study further at Sir John Cass College, where he studied the human figure, drawing from life – which became such an important part of his practice. During the time he spent in England, Kekana lectured and held three successful solo exhibitions, but despite being offered a position at Sir John Cass College, he chose to return to Africa to set up his own carving school in Zimbabwe, hoping to pass on the extensive knowledge he had gained to his students. Despite his loss of sight in his left eye due to an illness he suffered as a child, and partial paralysis that went undiagnosed, was an exceptionally skilled, creating very fine, detailed work through to large-scale relief panels. His busts and figures are sensitively modelled, evoking quiet expression and character, while the marks of his tools are still subtly visible. Confident in his drawing and sculpting skills, he wanted to record what he observed, drawing from the world around him, and this is the practice that he passed on to his students.
---
14 lots offered 64.29% sold ZAR 391 653

Including Premium and VAT
Results include Buyer's Premium and VAT
†VAT is charged on both hammer and premium for daggered lots.
Results in green indicate post sales.
---