From Albert Adams to Portia Zvavahera, Strauss & Co maintains a detailed database of every artist sold at auction since 2009. Whether it is painting, sculpture, works on paper, photography, ceramics or new media, this searchable database lists by artist every lot offered and provides aggregated data useful to collectors. Famous South African artists like William Kentridge, JH Pierneef, Alexis Preller and Irma Stern are introduced with helpful biographies along with the best contemporary artists.
---
Value your Art?
Do you know the value of your Art?
Sana Chamekh
---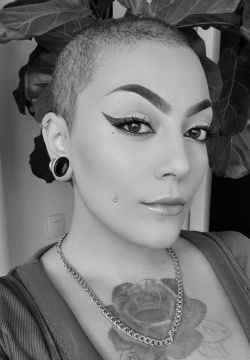 Sana Chamakh was born in Tunis. She attended the school of fine arts in Tunisia, graduated from ESMOD International University and is currently studying fine arts at the Vincennes-Saint-Denis University in Paris.
Chamakh works between fine arts and fashion, discovering the human body's social and anatomical views, its poses, and its fabric related volumes … covering it once and uncovering its stories once. Making fabrics her first support, she uses different fine art techniques such as collage, drawing and painting as well as fashion-related techniques as broderie, stitching and fabric manipulations, in a constant experiment.
"I've always found the combination of art and science very rewarding," she says. "When you are studying an object or an organism it genuinely feels like you are accessing a whole new level of consciousness. By working on body anatomy, mapping its shapes into my memory, the more I experimented, the better I understood my own body."
The human body is central to how we understand facets of identity such as gender, sexuality, race, and ethnicity. People alter their bodies to align with or rebel against social conventions and to express messages to others around them. "I try to explore gender through representations of the body, the body as lived throughout the different stages of a woman's life, my life."
Focusing on female figures, nude portraits and studies of human flesh, Chamakh tries to uncover the relationship we have with our bodies and emotions in modern society. The body representations are a response to a need for visual representation of alternative body types, larger, deformed, creepy, misshaped, damaged but real, as a form of fighting back against the near-impossible standards set by society and mass media. "I draw on topics of feminism, identity and sexuality. By allowing myself to explore issues that I battled with in my life such as illness, abortion and death. Highlighting some sort of struggle that I went through on my journey towards body-acceptance. Acceptance obtained through a process and a never ending journey. These approaches are very significant for giving women's bodies a positive value which induces pride rather than shame, social and political empowerment."
---
We have not offered any works by Sana Chamekh at auction
Please contact us if you have any further enquiries.