Strauss & Co bring important works by Pierneef, Preller, Stern and Tretchikoff to market 
13 Mar 2023
Irma Stern's Children Reading the Koran (1939) leads strong catalogue of historical artworks
High value works by Alexis Preller, Vladimir Tretchikoff and Pieter Wenning
Naspers Collection consigns five paintings, including J. H. Pierneef's serene Red Kloof (1928)
Stellenberg Collection releases six paintings by moderns Domšaitis, Sumner and Welz
Strong contemporary offering featuring Deborah Bell, Virginia Chihota, David Goldblatt, William Kentridge, Sethembile Msezane and Diane Victor
Wine auction to focus on Bordeaux and Cape Bordeaux-style reds
Decorative arts department to offer 67 lots of jewellery, silver and furniture
Following the brisk resumption of business with successful auctions in February, Strauss & Co is pleased to announce details of its marquee live-virtual auction of modern and contemporary art, fine wine and decorative arts (jewellery, silver and furniture) at its new, modern premises in Woodstock, Cape Town. Highlights from Cape Town Art Week (26-28 March 2023) include fresh-to-market historical artworks by blue-chip artists Maggie Laubser, J. H. Pierneef, Alexis Preller, Irma Stern and Vladimir Tretchikoff.
The premier evening sale on Tuesday, 28 March will include an in-sale focus on South African painters who explored East Africa. Irma Stern's devotional composition Children Reading the Koran (sold for an African Auction Record of R22 303 125), from her 1939 visit to the island of Zanzibar, leads a fine selection of travel paintings by Freida Lock, J. H. Pierneef and Pieter Wenning. The catalogue also includes important historical paintings from two important art collections.
Important Works from Stellenberg and Naspers Collections on Auction
"Strauss & Co is privileged to be handling works from the Naspers Collection and Stellenberg Collection," says Bina Genovese, Managing Executive, Strauss & Co. "Naspers Limited is a venerable South African company with an impressive holding of art to match its long trading history. We are delighted to present five paintings from the Naspers Collection, including works by Gregoire Boonzaier, Hugo Naudé and Irma Stern. We are particularly thrilled to also be offering J. H. Pierneef's serene ravine painting Red Kloof (sold at auction for R5 490 000), which was produced a mere 13 years after Naspers was founded in 1915."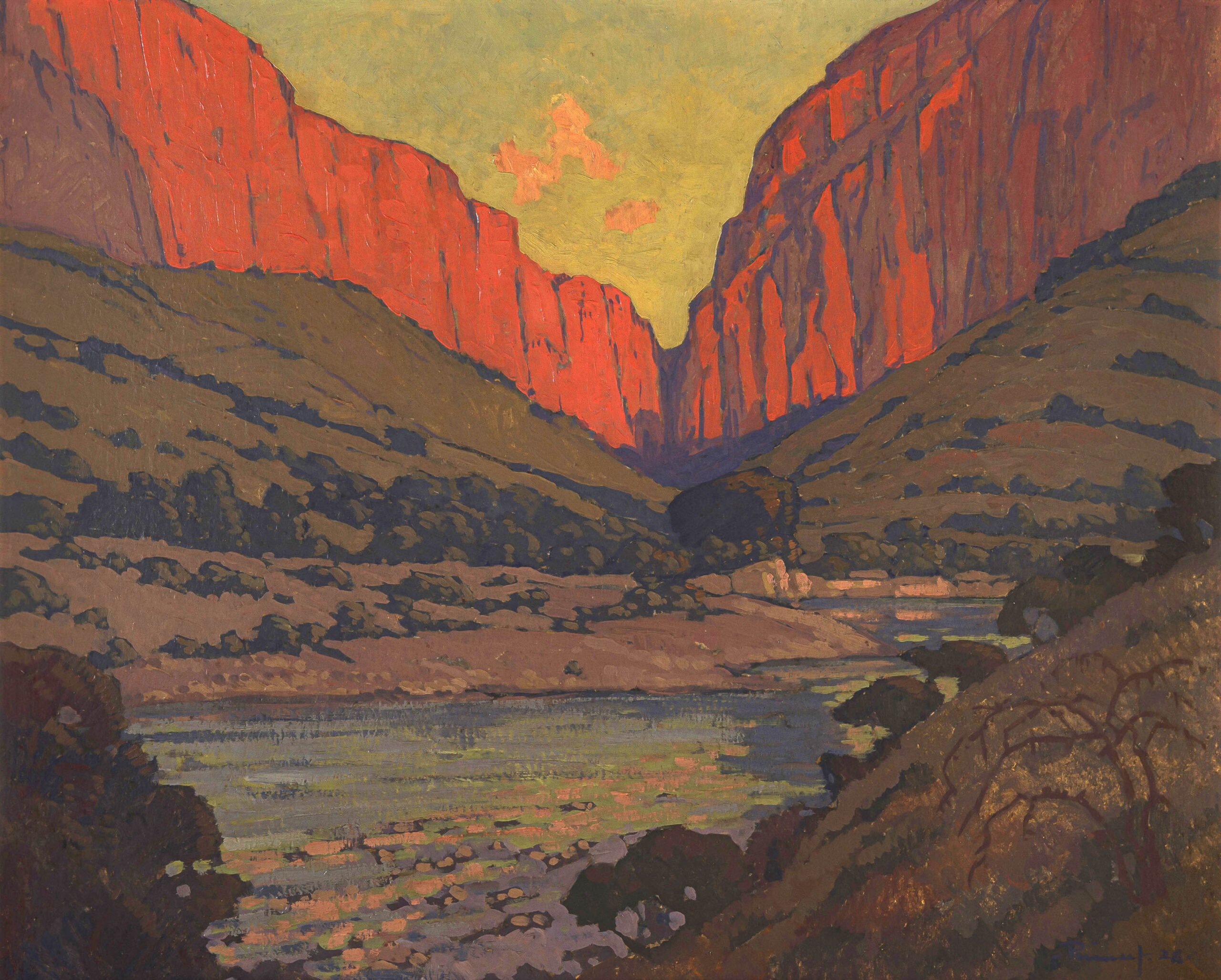 Adds Genovese: "The Stellenberg Collection takes its name from a grand Cape Dutch homestead founded in the late 1600s in what is today upper Kenilworth. We are honoured to present six historical paintings by Pranas Domšaitis, Maud Sumner and Jean Welz from the private collection held at this important historical home, the last example of its kind in Cape Town's central southern suburbs."
Cape Town Auction Week
Cape Town Auction Week will commence on Sunday, 26 March with a live-virtual auction of Bordeaux wines and Cape Bordeaux-style reds, and is followed a day later with the conclusion of Monochrome: Modern and Contemporary Art, a themed auction of work that privileges form rather than colour. Lots in this timed-online auction will consecutively close at one-minute intervals starting at 2pm on Monday, 27 March.
On Tuesday, 28 March, at 7pm, Strauss & Co will present a stunning consignment of modern and contemporary artworks in a live-virtual session. Important works on sale include Alexis Preller's 1955 portrait The Red Blanket (sold at auction for R6 862 500), a stylised rendition of a majestic Mapogga woman, and J. H. Pierneef's Highveld Landscape, an iconic study from 1945 of a grassy plain framed by distant mountains and dramatic sky (sold at auction for R8 006 250).
"It is an honour to handle these privately-owned treasures and to assist their sellers in finding new custodians for these important works," says Jean le Clus-Theron, Head of Sale, Strauss & Co. "I am particularly thrilled by the still lifes in the auction, of which Irma Stern's colour-drenched Still Life with Flowers and Pumpkin from 1948 (sold for R4 000 000) and Vladimir Tretchikoff's opulent Still Life with Magnolias in a Vase from 1952 (sold for R4 117 500) are knockout examples."
Continues Le Clus-Theron: "Other important artists working this evergreen genre in our sale include William Kentridge, Frans Oerder and Pieter Wenning. Maud Sumner's Still Life with Fruit (sold at auction for R199 325) from the Stellenberg Collection is a particularly lovely distillation of her Parisian influences."
Strauss & Co has a solid reputation for handling contemporary art, in February achieving record prices for paintings by Cinga Samson and Simphiwe Ndzube. The forthcoming sale includes noteworthy paintings by Jake Aikman, Beezy Bailey, Deborah Bell, Simon Stone and Ruby Swinney. There are notable works on paper by Virginia Chihota, William Kentridge and Diane Victor, as well as two impressive photographs by Sethembile Msezane and David Goldblatt recording the jubilant removal in 2015 of Marion Walgate's bronze statue of Cecil John Rhodes from a plinth at the University of Cape Town.
Strauss & Co Hosting Public Lecture Series
Education and hospitality are important components of Strauss & Co's way of conducting business. In the lead up to Cape Town Auction Week, Strauss & Co specialists will present free public lectures. Kayleen Wrigley will look at the brilliant legacy of South Africa's women expressionists on Friday, 24 March 2023, at 10am, and Leigh Leyde will offer practical advice on all facets of being an art collector on Saturday, 25 March, at 11am.
The preview exhibition for Cape Town Art Week is open to the public from 13 to 28 March 2023 at Strauss & Co's public gallery at Brickfield Canvas, 35 Brickfield Road, Woodstock, Cape Town.
Updated to Reflect Prices Achieved at Auction