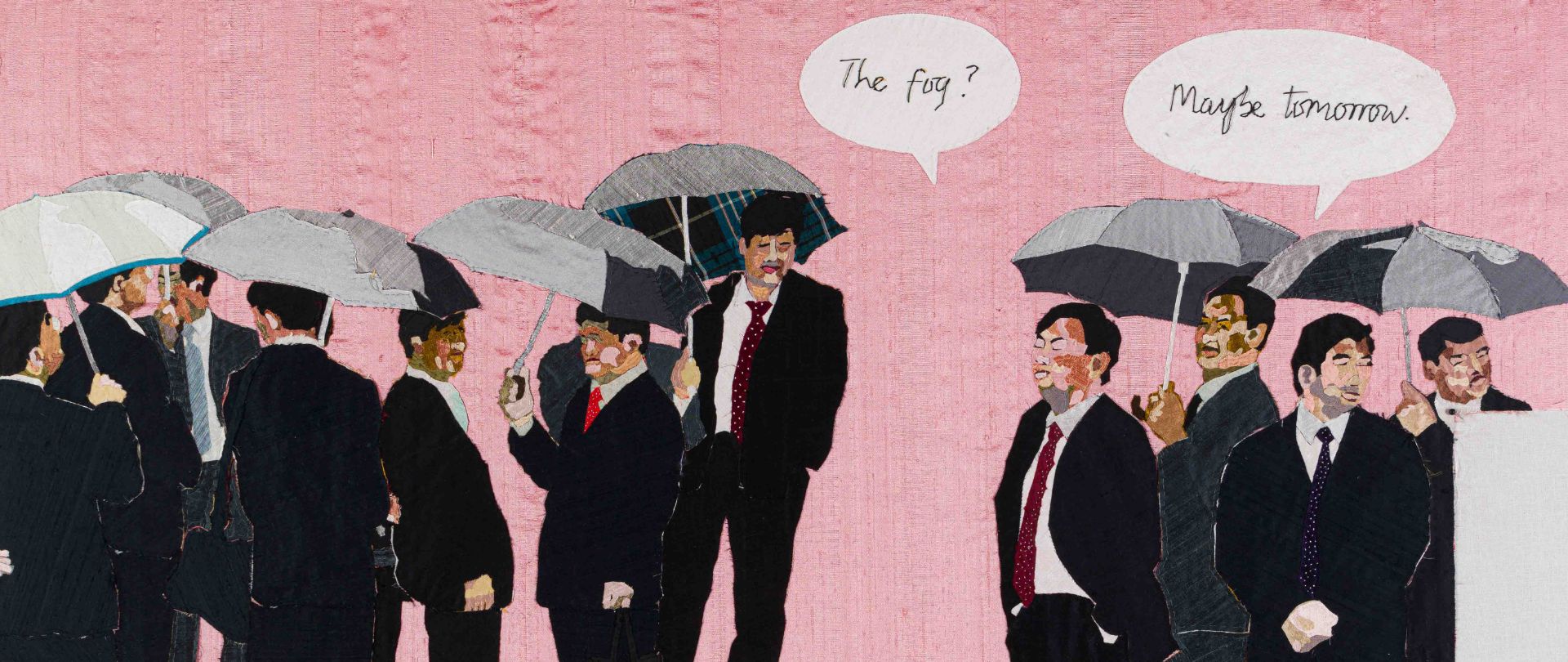 Internationally acclaimed but irrefutably South African: Strauss & Co's marquee summer auction features important works by Billie Zangewa and William Kentridge
2 Nov 2023
• Contemporary consignment led by early drawings and bronzes by William Kentridge
• High-value works by Billie Zangewa, Athi-Patra Ruga and Robert Hodgins
• Spotlight printmaking sale includes rare 1978 etching by William Kentridge
• Additional timed-online auction includes Tracey Rose and Walter Oltmann
Two internationally acclaimed artists, Billie Zangewa and William Kentridge, respectively born in Malawi and Johannesburg, form part of an influential grouping of contemporary African artists in Strauss & Co's premier live-virtual Evening Sale on Tuesday, 7 November 2023. The catalogue for this marquee auction includes important bronzes and early drawings by William Kentridge, paintings by Deborah Bell, Marlene Dumas and Georgina Gratrix, as well as photographs by Athi-Patra Ruga and Mikhael Subotzky.
"Johannesburg artist Billie Zangewa has garnered international attention and representation with her compelling narrative tapestries made by layering fragments of raw silk," Wilhelm van Rensburg, Senior Specialist and Chief Curator, Strauss & Co. "We are delighted to be presenting an early work by the artist from 2008. Business as Usual [estimate R900 000 – 1.2 million / $47 960 – 63 947] is dominated by a sumptuous ground of seductive pink silk and showcases why the artist has been invited to collaborate with luxury brands like Dior and Louis Vuitton. This striking work forms part of a top-quality consignment of works by William Kentridge, an artist with a global profile."
The contemporary consignment features nine works representative of all William Kentridge's major media and themes. The five bronzes include an edition of the artist's iconic electrified cat (estimate R2 – 3 million / $106 580 – 133 225) inspired by a Cecil Skotnes graphic in his childhood bedroom. The sculpture series Shadow Figure I-IV is linked to Kentridge's 2015 stage production of Alban Berg's opera Lulu for New York's Metropolitan Opera. The four editioned bronzes (estimates vary per work but range from R1.5 to 4 million/ $79 934 to 213 157) were first exhibited in Sydney as part of a larger exhibition.
Kentridge is a prolific draughtsman and printmaker. Strauss & Co is honoured to present two early drawings: a circa 1985 study of a seated woman (estimate R1.2 – 1.5 million / $63 947 ­– 79 934), which was shown with Kentridge's first dealer, Reinhold Cassirer, and a surrealistic landscape from the Deluge Series (estimate R2 – 3 million / $106 578 – 159 867). The multi-panel lithograph Irises, Royal Observatory, Cape of Good Hope (estimate R1 – 1.5 million / $53 289 – 79 934) depicts a German bearded iris and was printed on 42 pages in six runs.
Collectors interested in Kentridge's prints will revel in the catalogue for Defining Impressions, a curated auction of 80 prints published by six studios. This live-virtual auction, organised by Wilhelm van Rensburg, Senior Specialist and Chief Curator, Strauss & Co, will be held on Monday, 6 November 2023. This specialist auction includes three rare etchings from Kentridge's 1978 series Carlton Centre Games Arcade (estimate R50 000 – 70 0000 / $ 2 657 – 3 720) presented in a single lot. Other important Kentridge prints on offer include Iris II (In Clamp) from 2005 (estimate R750 000 – 850 000 / $ 39 858 – 45 172) and the 2013 linocut Hope in the Green Leaves (estimate R600 000 – 800 000 / $ 31 886 – 42 515).
Says Bina Genovese, Managing Executive, Strauss & Co: "We anticipate strong demand from international collectors interested in William Kentridge and contemporary art from South Africa in general. Strauss & Co has significantly grown its brand internationally since 2020, both through its seamless live-virtual auctions and various in-person educational events in London and Venice. We provide a reliable platform for international collectors to access important collectable pieces by artists of the calibre of William Kentridge and Billie Zangewa, two dynamic Johannesburg artists who work in innovative ways with traditional media."
Other notable works made since 2000 appearing in the premier Evening Sale on 7 November 2023 include Athi-Patra Ruga's large photograph Miss Azania, Exile is Waiting (estimate R450 000 – 600 000 / $23 980 – 31 973), an edition of which appeared in the artist's 2018 solo exhibition at Somerset House, London. Georgina Gratrix is widely admired for her bold impasto portraits, of which Woman with Sunglasses (estimate R90 000 – 120 000 / $4 796 – 6 395) is striking example. Robert Hodgins, a much-loved painter who collaborated frequently with Kentridge in the 1990s, is represented by three paintings of seated figures. Painted in 2003, Kings of Africa (estimate R400 000 – 600 000 / $21 316 – 31 973) distils his élan as a colourist.
Johannesburg Auction week culminates with a timed online auction of modern and contemporary art on Wednesday, 8 November 2023. The catalogue for this auction is brim-full with wonderful examples of contemporary art. Tracey Rose's important photo self-portrait MAQEII (estimate R120 000 – 150 000 / $6395 – 7 995) from her Ciao Bella series, leads an excellent consignment of photographs by Cyrus Kabiru, David Goldblatt and Mikhael Subotzky. The work is related to Rose's 2001 Venice Biennale film installation Ciao Bella. Walter Oltmann's intricately woven sculpture Wall Flower (estimate R120 000 – 180 000 / $6 395 – 9 592) forms part of a diverse sculpture consignment that includes works by Norman Catherine, Dylan Lewis, Blessing Ngobeni and Angus Taylor. The painting consignment includes Stephané Conradie's Hairossie (estimate R70 000 – 100 000 /$3 730 – 5 329), an assemblage piece combining original painting and found sculpture, as well as collectable works by Olaf Bisschoff, Conrad Botes, Anton Karstel, Yolanda Mazwana, Bambo Sibiya, Simon Stone and Clive van den Berg.