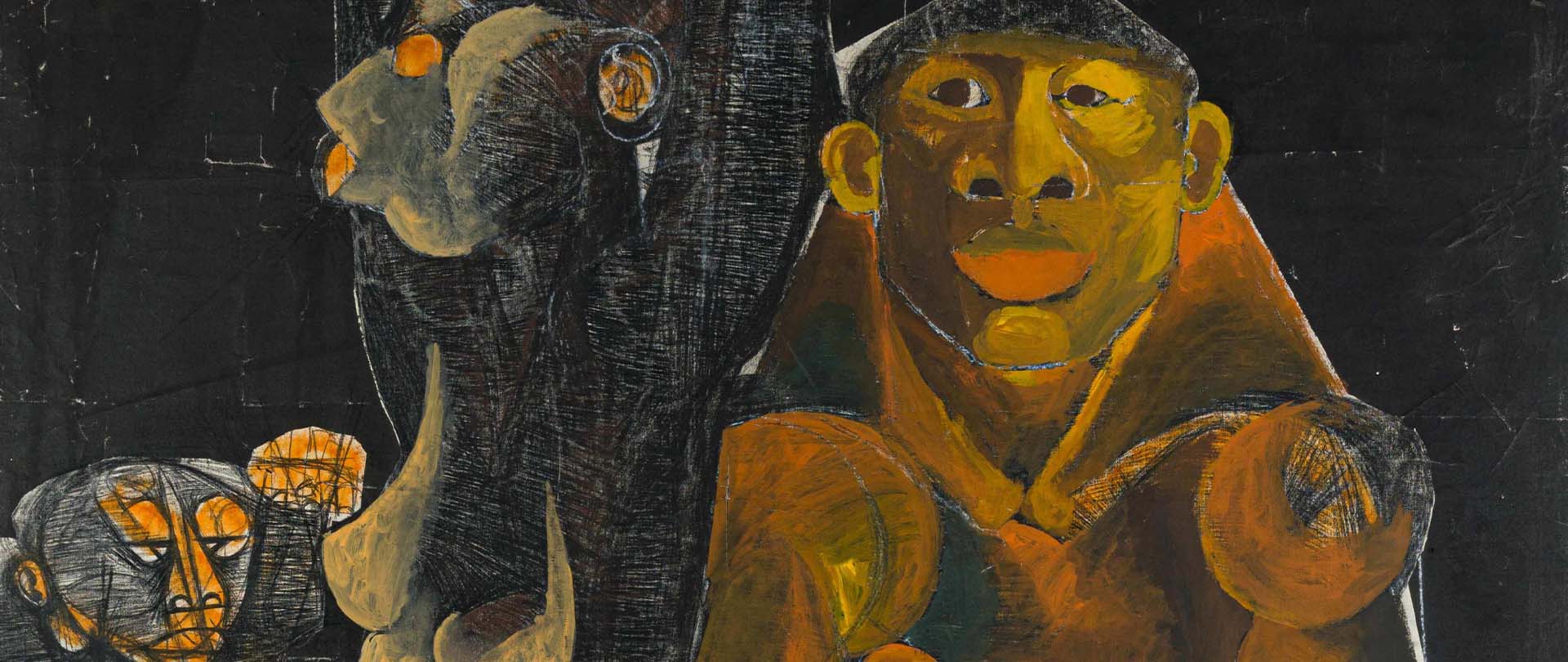 Rare colour work by exiled south African artist Dumile Feni sells for new world record price at Strauss & Co sale in Johannesburg
17 May 2023
New collectors interested in South African modernism are diversifying tastes and affirming new auction heroes within this vibrant category.
Exile-period colour work by Dumile Feni sells for R2 287 500/ $119 805, a world record
Strong demand for leading Black modernists, including Gerard Sekoto and Ben Enwonwu
Irma Stern still life top earner, selling to telephone bidder for R11 437 500/ $596 191
Brisk trade sees 100% sale of rare Italian and Spanish wines and 85% lots sold from private family art collection
Leading African modernist, Dumile Feni, who left South Africa in 1968 never to return, shone at Strauss & Co's premier evening auction in Johannesburg when Blue Suede Shoe, a rare colour work produced in the United States in 1983, sold for R2 287 500/ $119 805 to a buyer in the packed saleroom.
The climactic final sale of Johannesburg Auction Week also saw strong results achieved for modernist painting from the 1940s, notably a pre-exile street scene by Gerard Sekoto and a magnificent still life by Irma Stern.
"The demand for top-quality works by early South African modernists remains strong, with bellwethers J.H. Pierneefand Irma Stern continuing to excel at market, but we are seeing a welcome broadening of the modernist category, with late moderns like Dumile Feni, George Pemba and Nigerian artist Ben Enwonwu attracting strong bids and selling to new buyers," says Frank Kilbourn, Chairperson, Strauss & Co.
"The new benchmark price for Dumile Feni is an important milestone for this artist, who was a dynamic figure in South African art circles of the 1960s. It was the first time we have offered a work by Ben Enwonwu, and I was delighted that it drew such interest, eventually selling for over 350% its estimate. Following shortly after our successful pan-African sale in Cape Town in February, the result confirms Strauss & Co's capabilities handling art from across the African continent."
Three works painted in the 1940s were the top achievers at Johannesburg Auction Week.
A telephone bidder secured Irma Stern's impressive Still Life with Dahlias and Pumpkin from 1944 for R11 437 500/ $596 191, while her portrait of a Cape Muslim woman painted in 1946 sold for R5 146 875/ $268 512.
Gerard Sekoto, who like Feni went into self-imposed exile to further his career amidst the bite of apartheid, achieved R2 859 375/ $149 296 for a street scene painted in 1946.
But it was Dumile Feni's 1983 mixed-media composition Blue Suede Shoe, which portrays a mother and child flanked by a naked male figured, that was the auction's major talking point. Consigned buy the artist's family estate and included in Feni's posthumous 2005 career retrospective of the Johannesburg Art Gallery, the work sold to a new buyer in the room. Feni is best known for his monochromatic drawings, but Blue Suede Shoe is rather unique in its combination of muscular draughtsmanship using black crayon and flashes of painted colour.
Notwithstanding geopolitical storm clouds, which have upended financial markets in South Africa, Johannesburg Auction Week saw overall brisk trade. The wine department's sale of rare wines from Italy and Spain netted R1 982 346/ $103 296, with all 101 lots offered sold. An online sale of a private family collection that was split across three sessions earned a healthy R2 921 636/ $152 300, with an 85% lot sell-through rate.
The premier evening sale that drew the vibrant calendar of events for Johannesburg Auction Week to a close also saw notable prices paid for works by earlier twentieth century artists J.H. Pierneef and Anton van Wouw. Three post-war moderns, Erik Laubscher, George Pemba and Cecil Skotnes, also confirmed their durable status at auction. Pemba's 1976 composition, A Woman Sewing, sold to a young buyer in the room for R485 205/ $25 241. Along with Sekoto, Pemba is a pioneer modernist who laid the groundwork for later successors like Feni.