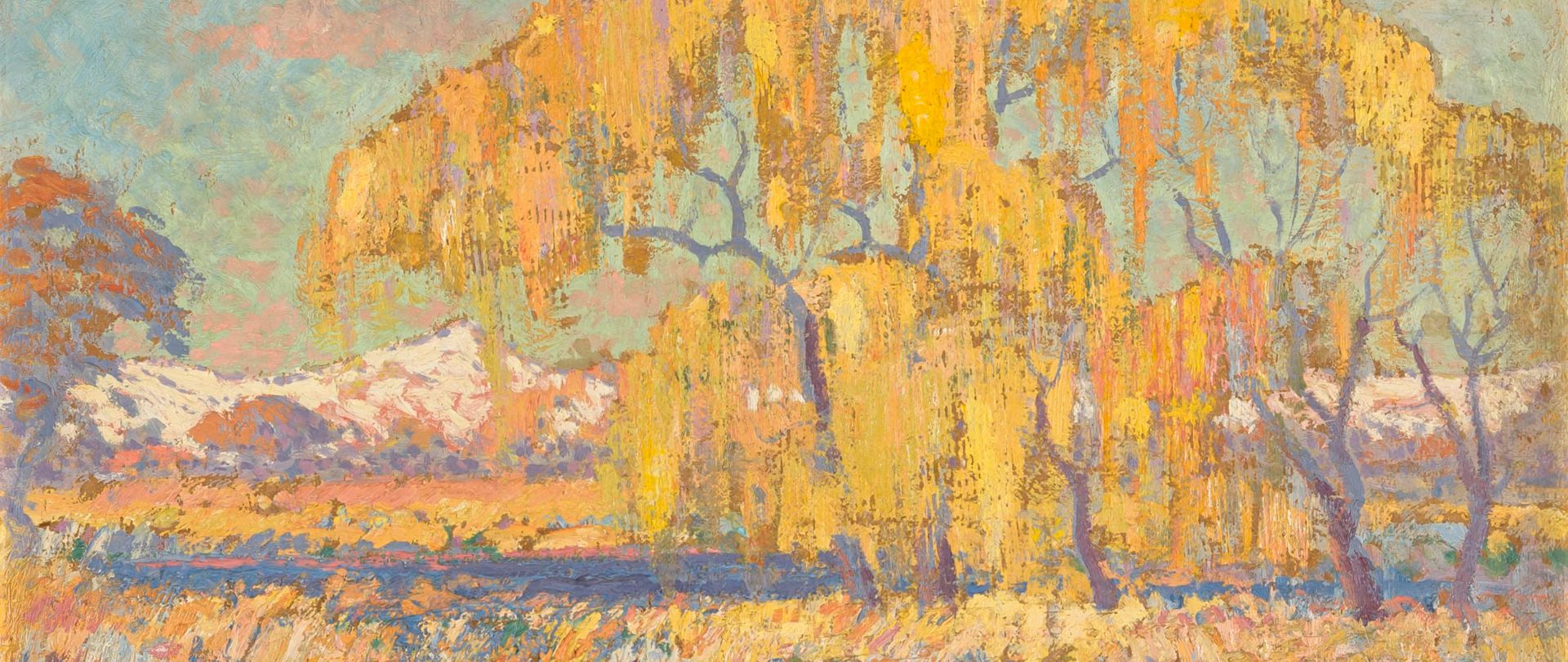 Fresh-to-market paintings by Pierneef, Preller, Sekoto and Stern to be sold during Johannesburg Auction Week
23 Oct 2023
• Johannesburg Auction Week presents 247 lots with combined value of
R71 million-100 million
• Exceptional landscapes by modernists J.H. Pierneef and Moses Tladi
• High-value still lifes by Irma Stern and Alexis Preller
• Rare Kentridge prints lead specialist sale focusing on South African print studios
• Important contemporary art by Tracey Rose, Athi-Patra Ruga Billie Zangewa
Strauss & Co, Africa's leading auction house, announces Johannesburg Auction Week (6-8 November 2023), a series of curated auctions bringing together works by modernist pioneers and contemporary innovators. Among the many highlights are three rare landscapes by Moses Tladi, the first black artist to exhibit in the South African National Gallery, intensive artist focuses on William Kentridge and J.H. Pierneef, and an important textile work from 2008 by Billie Zangewa.
The Evening Sale of Modern and Contemporary Art which takes place on Tuesday 7 November, presents collectors with fresh-to-market paintings, many unseen in decades, by Maggie Laubser, Alexis Preller, Irma Stern and Gerard Sekoto. Bronzes by acclaimed mid-century sculptors Ezrom Legae and Sydney Kumalo lead a strong presentation of influential Amadlozi Group artists, including works by Cecil Skotnes and Edoardo Villa. Five sought-after Kentridge bronzes, four of them derived from his 2016 series Shadow Figure, lead a superb presentation of contemporary art by Marlene Dumas, Georgina Gratrix and Athi-Patra Ruga. A standalone auction of South African prints from six studios also offers a deep-dive into Kentridge's fascinating career as a printmaker.
"Johannesburg Auction Week offers fabulous variety, from rare modernist oils and bronzes to contemporary prints, paintings and textiles by artists with significant museum and institutional interest," says Dr. Alastair Meredith, Head of Sale, Strauss & Co. "Moses Tladi is now highly sought after at market, more so since his acquisition by the Iziko South African National Gallery. William Kentridge and Tracey Rose have recently both received international career retrospectives, in London and New York respectively. A new catalogueraisonné devoted to the sculptures of Sydney Kumalo and Ezrom Legae, coupled with an exhibition in London, has further stimulated interest in these two important mid-century sculptors."
Adds Dr. Alastair Meredith: "Strauss & Co has played an important role in maintaining benchmark prices for J.H. Pierneef. For Johannesburg Auction Week, we have gathered one of the finest presentations of Pierneef landscapes to appear at market in recent years. The consignment is led by a monumental portrayal of Rustenburg Kloof (estimate R3 – 4 million / $159 430 – 265 717), an enduring Pierneef subject, and an extensive landscape with rolling veld rendered in a gorgeous medley of pinks, yellows and greens (estimate R3 – 5 million / $159 430 – 265 717). For specialist collectors, there are three Pierneef works dated 1926. They include two highly collectable caseins and an oil painting of a golden willow tree on the Pienaars River (estimate R1 – 1.5 million / $53 143 – 79 715). This striking work is titled Die Kuile in die Pienaarsrivier by Roodeplaat and forms part of an extraordinary cache of works assembled by the late Professor Danie Joubert, a former Vice-Chancellor and Rector of the University of Pretoria."
Other notable works from private collections being offered during Johannesburg Auction Week include Alexis Preller's Vibrating Figure (estimate R1.2 – 1.6 million / $ 63 772 – 85 029). Painted in 1952, this evocative still life was acquired a year later by art historian Frieda Harmsen. The premier evening sale of modern and contemporary art on Tuesday, 7 November also includes Alex Preller's stunning 1948 composition, Still Life with Lilies and Shell (estimate R2 – 3million / $106 287 – 159 430). Together with Irma Stern's Still Life with Irises and Anemones from 1954 (estimate R4 – 5 million / $ 212 574 – 265 717), Preller's work leads a diverse consignment of important genre painters, among them Gerard Bhengu, Maggie Laubser, and Maud Sumner.
Two works by William Kentridge – a 1989 drawing from his Deluge Series (estimate R2 – 3 million / $106 287 – 159 430) and a multi-panel print from 2019 titled Irises, Royal Observatory, Cape of Good Hope (estimate R1 – 1.5 million / $53 143 – 79 715) – underscore the durability of landscape and still life as contemporary modes of expression. These works by Kentridge form part of a strong offering of nine lots – five bronzes and four works on paper – being offered in the premier evening sale. This presentation forms part of a diversified focus on Kentridge throughout Johannesburg Auction Week.
Johannesburg Auction Week commences on Monday, 6 November 2023 with Defining Impressions: A Selection of Prints from South African Studios. The 80 lots on offer are chiefly linked to six studios: The Artists' Press, Artist Proof Studio, The Caversham Press, David Krut Workshop, Legate Lithography Editions (LL Editions) and Jillian Ross Print. Alongside prints by Willem Boshoff, Phillemon Hlungwani, Robert Hodgins, Themba Khumalo, Blessing Ngobeni, Nelson Makamo, Lady Skollie and Diane Victor, there is a substantial presentation of works on paper by William Kentridge.
An innovative and prolific printmaker, William Kentridge has shown an unswerving commitment to print since the mid-1970s. Strauss & Co is honoured to present three rare etchings from his 1978 series Carlton Centre Games Arcade (estimate R50 000 – 70 0000 / $ 2 657 – 3 720) in a single lot. The small prints were executed by Kentridge at his mentor Bill Ainslie's studio in Saxonwold, Johannesburg. Important Kentridge prints on offer in this sale include Iris II (In Clamp) from 2005 (estimate R750 000 – 850 000 / $ 39 858 – 45 172) and the 2013 linocut Hope in the Green Leaves (estimate R600 000 – 800 000 / $ 31 886 – 42 515). Defining Impressions features an extensive education programme organised by Wilhelm van Rensburg, Senior Art Specialist and Head Curator, Strauss & Co.
Johannesburg Auction Week concludes on Wednesday, 8 November 2023 with the Day Sale of Modern and Contemporary Art – a timed-online sale of 82 lots. Highlights include a mixed-media collage by Blessing Ngobeni and important photos by David Goldblatt and Tracey Rose. The sale extends on the landscape theme of the preceding Evening Sale. There is a pencil drawing by Moses Tladi and paintings by, among others, Gregoire Boonzaier, Pranas Domsaitis, Judith Mason, Erich Mayer, Walter Meyer, Clive van den Berg, J.E.A. Volschenk and Pieter Wenning.