Jewels Online: LAUNCH EDITION - Classic emeralds to contemporary designs
14 Jul 2023
Leading African auction house Strauss & Co. is proud to announce the opening of their online standalone jewellery sale, curated by the company's newly established jewellery department. The sale is open for view online until  2pm on 24th July and offers collectors and aficionados an eclectic selection that caters to a diverse range of tastes and budgets.
Classic emeralds to contemporary designs
"Pearl strands, high-value diamonds, and some extraordinary emerald pieces will beguile connoisseurs who prefer the classics," says Kim Goeller, the auction house's newly appointed specialist jewellery consultant, who spearheaded the sale.
She highlights a three-stone emerald cocktail ring, reminiscent of Elizabeth Taylor's legendary Bulgari emerald and diamond suite, a gift from her would-be husband Richard Burton in 1962 while filming Cleopatra. "The ring is a true showstopper, boasting a trio of rare verdant green emeralds."
The centre stone weighs 2.6 carats, with a total emerald weight of approximately 4.6 carats. A halo of meticulously set diamonds traces the emeralds in an opulent platinum setting (Estimate R180 000 – R200 000).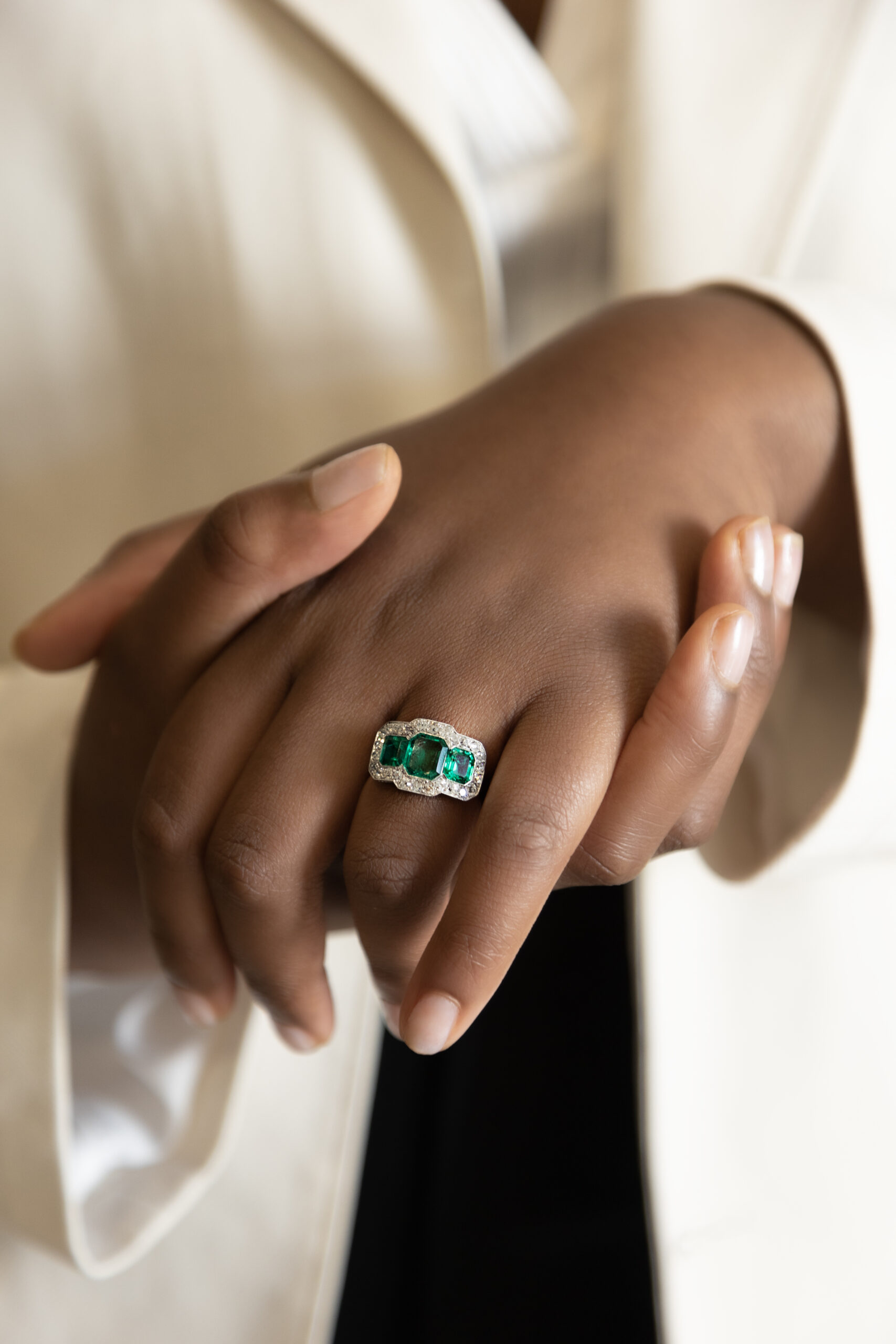 Evoking influences from Bulgari's Serpenti collection is a jade green enamel and 18k yellow gold snake-motif bangle, weighing 63 grams. The enamel's vibrant green colour evokes the impression of imperial jade, while the intricate scale pattern highlights the craftsmanship of Europe's finest artisans. The piece is adorned with tube-set rubies that serve as eyes, and an almond-shaped head plate made up of three round old European-cut diamonds (Estimate R 50 000 – 55 000).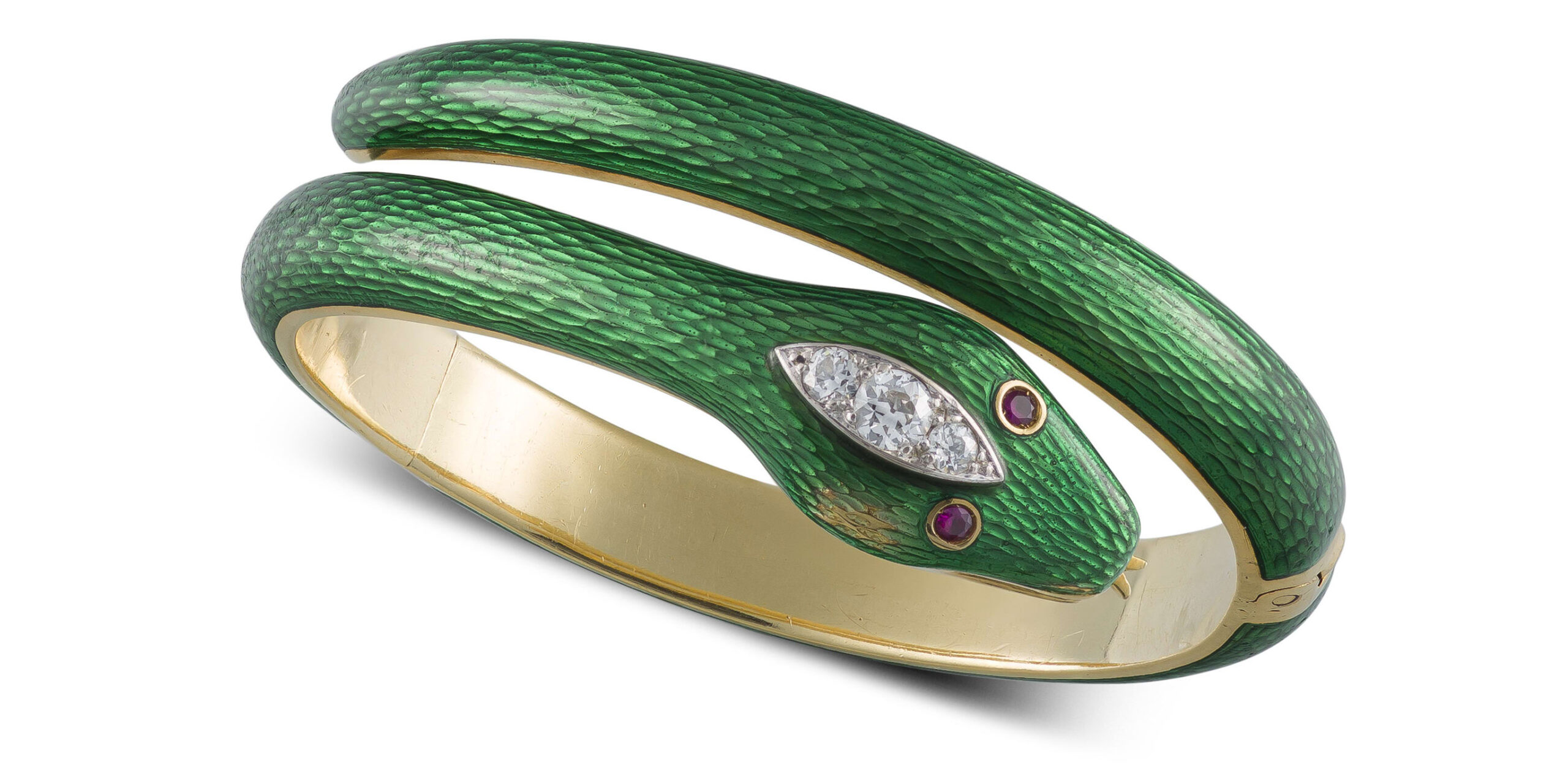 Jewellery aficionados who prefer designer names and statement pieces will be interested in an 18k yellow gold Bulgari disk-shaped pendant. The brand has maintained its timeless reputation since the Golden Age of Cinema and continues to captivate a new generation of celebrities. Anne Hathaway, Zendaya, and K-Pop superstar Lisa from Blackpink frequently choose Bulgari for their red-carpet appearances.
Branded with Bulgari's logo, the pendant's design draws inspiration from inscriptions found on ancient Roman coins. It is spectacularly set with 72 round cut diamonds totalling 2.7 carats and weighs 12.1 grams (Estimate R60 000 – 65 000).
"The pendant provides great value for those who have long desired one of the Italian house's iconic designs," says Goeller.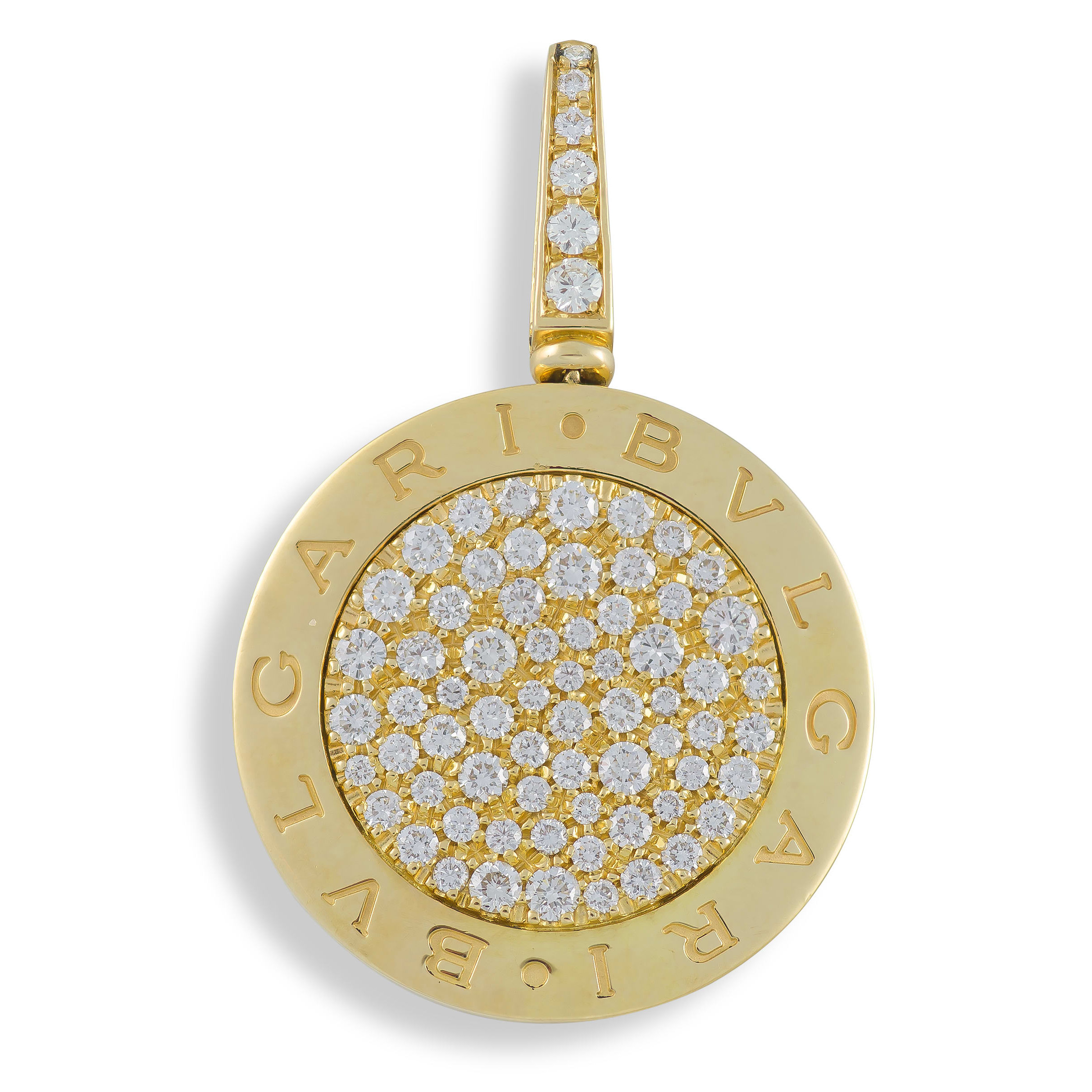 Appetite for alternate assets
"Trends and market research indicate a growing appetite for luxury assets as alternate investments, which includes high-value jewellery and precious metals," Bina Genovese, Managing Executive at Strauss & Co, explains.
On the secondary market, Hermès' Birkin bags and watches from Rolex, Patek Philippe, and Audemars Piguet have exhibited stellar performance, occasionally surpassing more traditional asset classes' returns on investment. Luxury jewellery seems to follow a similar trajectory as collectors show growing interest in alternate investment opportunities.
"As clients' preferences evolve with global investment trends, we remain dedicated to innovation to meet the growing expectations of our community of buyers. We pride ourselves in offering best-in-class service, whether it involves handling contemporary art consignments or evaluating exquisite jewellery. The new team of jewellery specialists bring a wealth of knowledge and expertise to the company and comprises esteemed leaders in their respective domains," says Susie Goodman, Managing Executive at Strauss & Co.
Goeller, who procures diamonds and gemstones for private clients both locally and internationally, is accompanied by esteemed gemmologists Tim Watson and Mike Ellis. Both Watson and Ellis are highly regarded authorities in the diamond and gem industry. Goeller received training from Watson, who is also a Fellow of the Gemmological Association of Great Britain (FGA) and previously oversaw the Diamond Certification Laboratory of the Jewellery Council in South Africa. Ellis, their colleague, leads diamond valuations at Strauss & Co in Johannesburg and has held positions as Chairman, Vice-Chairman, and Treasurer at the Diamond Dealers Club of South Africa.
Prospective buyers can choose from pieces adorned with exquisite London topaz, morganite, amethyst, and citrine. An impressive selection of jewellery from iconic brands Bulgari, Tiffany & Co., Boucheron, and Pomellato, along with well-known South African designers and producers Jenna Clifford, Browns, and Bellagio, are also on offer.