Highly important Zanzibar portrait by Irma Stern of praying man poised to go under the hammer at Strauss & Co
28 Aug 2023
• Praying Arab expected to fetch R16 – 18 million/ $839 375 – 944 300.
• Composition dates from pivotal Zanzibar period and features original frame.
• Stern market remains incredibly buoyant after 2023 African record.
• Strauss & Co is offering Irma Stern's, Praying Arab (1945) and Red Dahlias (1955).
On 19 September 2023, Strauss & Co, Africa's leading art auction house, will present Irma Stern's highly important portrait, Praying Arab (estimate R16 – 18 million/ $839 375 – 944 300).  From a prestigious private collection, Praying Arab dates from the artist's second visit to the East African island of Zanzibar in 1945, is widely documented in publications and has a distinguished exhibition history.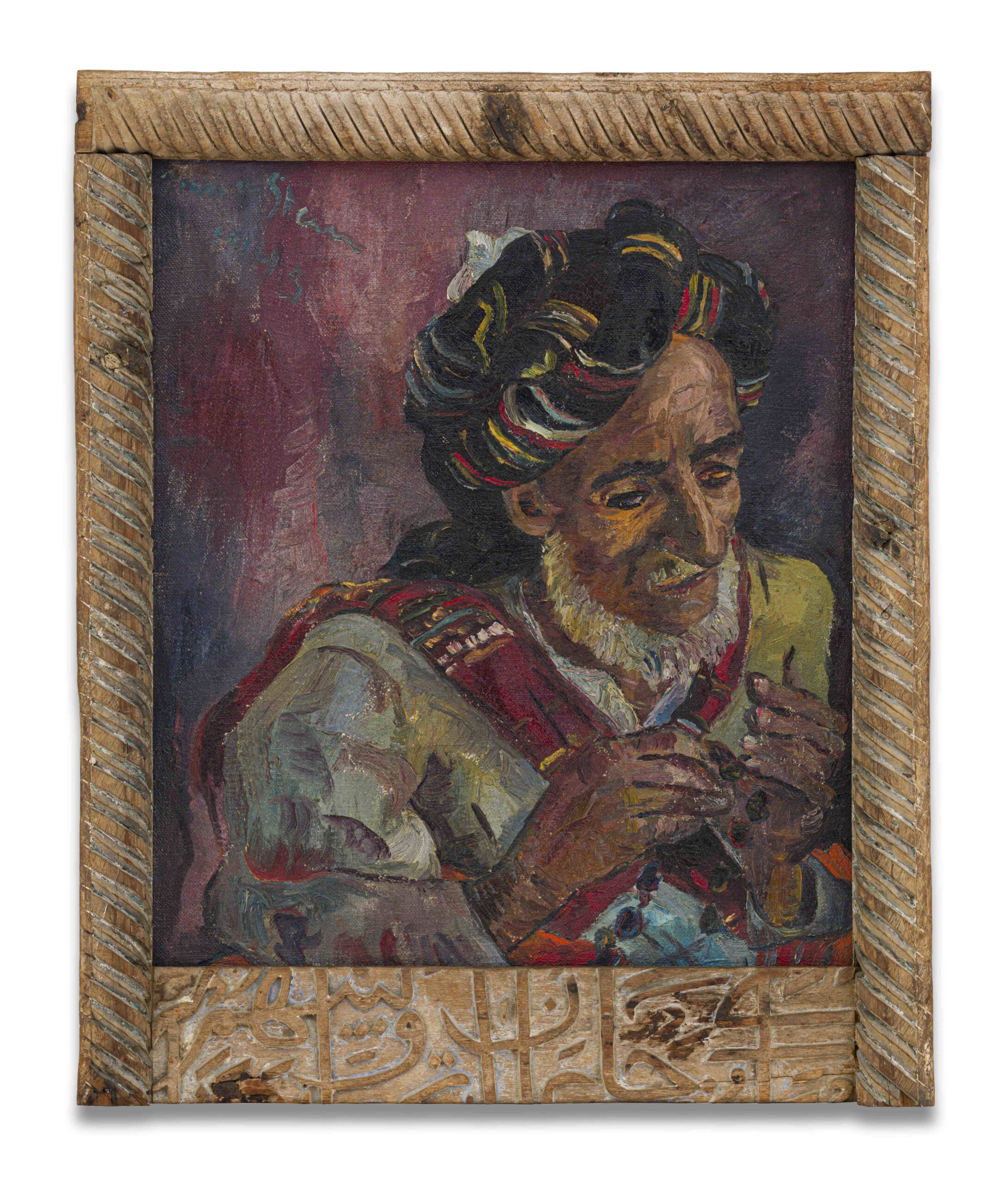 "We are honoured to present this impressive painting from Irma Stern's illustrious Zanzibar years," says Frank Kilbourn, Chairperson, Strauss & Co. "Praying Arab showcases all the hallmarks of a peak Stern, notably a vibrant palette, confident brushwork and descriptive detail. We are delighted to also offer Red Dahlias, a powerful late-career flower painting executed in 1955. Stern is best known for her portraits and still lifes, with work in both genres commanding excellent prices. In 2011, we sold Two Arabs, made during an earlier visit to Zanzibar in 1939, for R21.1 million/ $1.1 million. The price established an African record that stood until March 2023, when we sold Children Reading the Koran for R22.3 million/ $1.17 million."
Adds Frank Kilbourn: "Strauss & Co is the leading reseller of Irma Stern in Africa. Our commitment to realising the best value for our clients has seen us consistently grow the market for Stern. Since launching in 2009, we have sold 513 lots by Stern, realising R644 million / $33.8 million for our clients. I think it is particularly noteworthy that we have sold 88% of all the lots we offered. In 2022, we hosted a landmark sale of works from the UCT Irma Stern Museum, in which all the lots sold. There is no doubting that Stern has a passionate following among art collectors both locally and internationally."
Praying Arab is a particularly fine example of the stylistic attributes characteristic of Stern's golden period (roughly 1933-48), when she arrived at her mature descriptive style. Stern was familiar with Zanzibar from her many shipboard journeys to Europe. "The Zanzibarians are not types – they are all people," Stern admonished a reporter in 1946. Her sought-after compositions in oil from this period and geographic location are vibrant studies in human encounter. The importance of Praying Arab is clear from its prominent positioning in her artist's book, Zanzibar (1948).
Praying Arab is presented in an original period frame, which the artist commissioned from a Zanzibar artisan. The artwork was singled out for praise when it first went on exhibition in Cape Town in 1946. The Cape Times praised the "textural qualities of the draperies and flesh values." The Cape Argus ranked it alongside The Golden Shawl, owned by the South African National Gallery, and characterised it as "particularly brilliant" and "magnificent." Morris Cohen, a pioneering psychiatrist, art collector and ardent promoter of Stern, acquired Praying Arab from the artist.
Painted in 1955, Red Dahlias (estimate R2 – 3 million/ $104 825 – 157 235) is a fine example of Stern's magisterial flower studies in her well-known flamboyant style. The painting formed part of Stern's multi-city exhibition in Germany in the mid-1950s after more than two decades of absence from exhibiting there. It was shown in Munich, Linz and Berlin before returning to Cape Town, where a critic praised its "voluptuous vitality". Irma Stern's Praying Arab and Red Dahlias form part of an excellent consignment of modern and contemporary art that will be offered on Tuesday, 19 September 2023 in Cape Town. Strauss & Co's marquee live-virtual auction will include important contemporary works by Zander Blom, Nicholas Hlobo, William Kentridge and Mohau Modisakeng. The auction will be held at Strauss & Co, Brickfield Canvas, 35 Brickfield Road, Woodstock, Cape Town.