Strauss & Co's Curatorial Voices auction maps the story of art from Gerard Sekoto to Cinga Samson
27 Feb 2023
Strauss & Co, Africa's leading auction house, is pleased to announce details of the extraordinary artworks appearing in its new auction and exhibition, Curatorial Voices: Modern and Contemporary Art from Africa.
A dynamic collaboration between Strauss & Co and various industry experts, Curatorial Voices gathers exceptional paintings by important historical artists like Ablade Glover (Ghana), Pilipili Mulongoy (DR Congo) and Gerard Sekoto (South Africa), as well as striking contemporary pieces by the likes of Pierre-Christophe Gam (Cameroon), Cyrus Kabiru (Kenya) and Wycliffe Mundopa (Zimbabwe).
Given Strauss & Co's South African home, Curatorial Voices also includes a strong selection by leading South African artists, among them William Kentridge, Nelson Makamo, Zanele Muholi, Simphiwe Ndzube, Athi-Patra Ruga and Cinga Samson. A curated preview exhibition showcasing these artists will open on Wednesday, 15 February 2023, at Strauss & Co's new office and gallery in Woodstock, Cape Town, and coincides with the 2023 edition of the Investec Cape Town Art Fair. The auction itself will take place on Tuesday, 28 February 2023, with the lots split across a timed online-only day sale and curated evening live sale.
"There is a palpable energy in our viewing room in Cape Town as an exciting selection of works from across the African continent by both established and emerging artists come together," says Kirsty Colledge, Head of Art Department, Cape Town. "Vibrating with colour, textures and different voices, we are very proud to present these works from Africa, for Africa, to the world."
Gerard Sekoto's Prayer in Church (sold at auction for R3 431 250), an endearing study of religious devotion dating from his seminal Eastwood period (1945-47), leads a solid collection of modernist paintings. Mission born and educated, Christian faith played an important role in Sekoto's early life, as well as framed his cosmopolitan depictions of black urban life, of which his composition Mother and Baby (sold at auction for R519 863) is another fine example.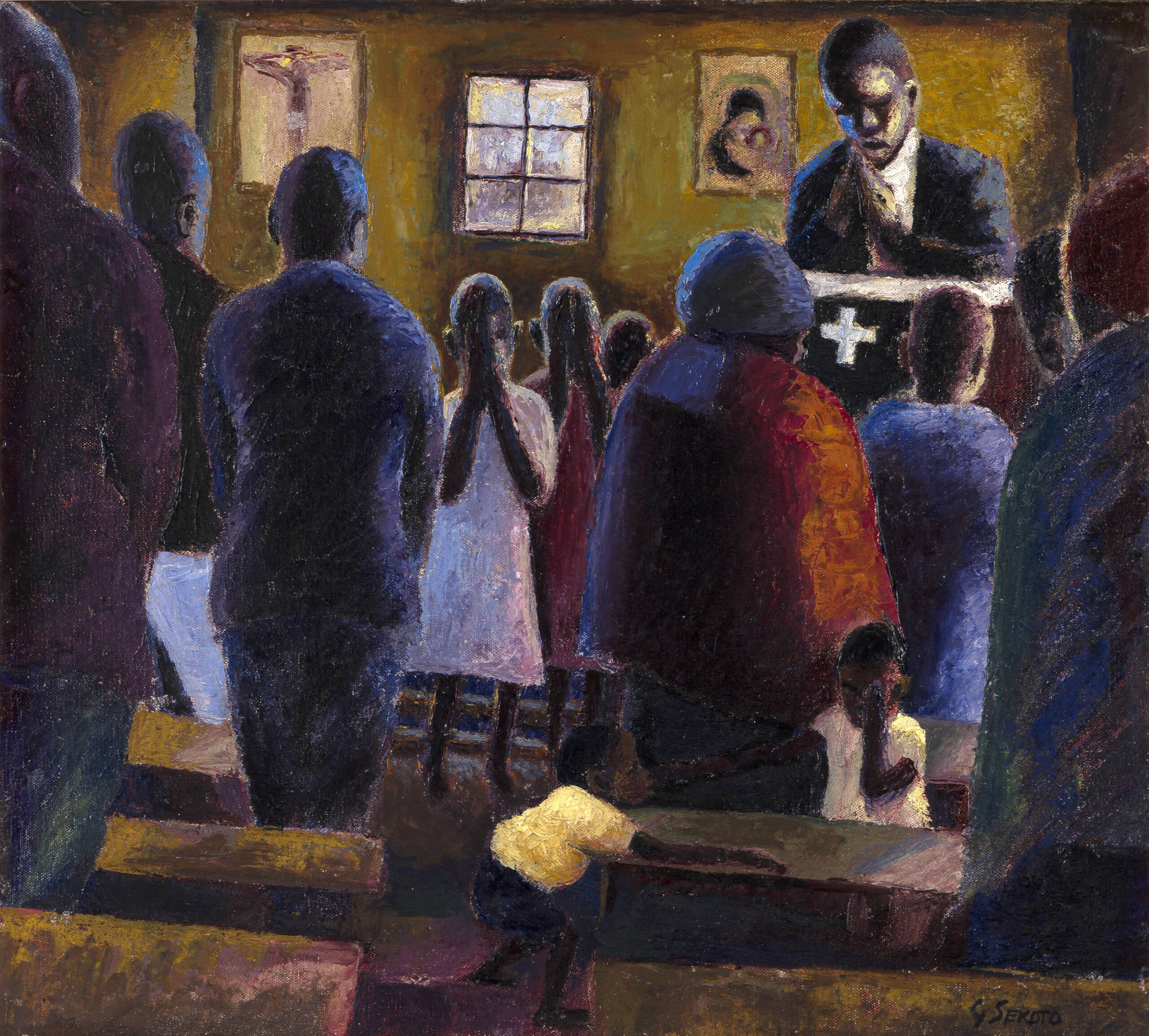 Revered for his delicate, highly decorative landscapes filled with plants and animals, Pilipili Mulongoy's Two Black Crowned Cranes (sold at auction for R92 575) is a bold example of his much-admired style. An influential painter and teacher, Ablade Glover's large composition Houses (sold at auction for R257 950) is exemplary of his colourful and highly textured oil paintings of Ghanaian marketplaces, landscapes and urban spaces.
Notable contemporary artists in the auction include Wycliffe Mundopa, winner of the 2021 FNB Art Joburg Prize, and Cyrus Kabiru, whose sculptures made from found objects have been exhibited to great acclaim internationally. Mundopa's Light of a New Day (sold at auction for R172 500) showcases his twin interests in colour and figural assemblies, also evident in his current solo exhibition with Southern Guild, Cape Town. Kabiru's bold sculpture Amittai (sold at auction for R175 875) is made from recycled bicycles. 
Figure paintings feature strongly in the line-up for Curatorial Voices. There is great anticipation around the offering of Cinga Samson's Before the Day has a Meaning (sold at auction for R2 173 125), one of a rare group of only five works from 2016 that announced Samson's brooding and theatrical self-portraiture. Fellow South African Nelson Makamo is represented in the auction by an arresting 2017 portrait of Grammy-winning musician and DJ Black Coffee, aka Nkosinathi Maphumulo (estimate R100 000 – 150 000).
Impressive Sculptures and Photographs on Auction
Curatorial Voices includes strong examples of South African sculpture by leading artists Deborah Bell, Cameron Platter, Chris Soal and Atang Tshikare. An edition of Athi-Patra Ruga's mixed-media sculpture, Proposed Model for Tseko Simon Nkoli Memorial (estimate R500 000 – 700 000), which honours anti-apartheid and gay rights activist Simon Nkoli, appeared in the inaugural exhibition at Zeitz MOCAA in 2017.
Ruga also has two extraordinary photographs in the auction, adding diversity to the lens-based media on offer by, among others, Pierre-Christophe Gam, Zanele Muholi and Robin Rhode. Gam's two colourful photo portraits derive from his celebrated Affogbolos series, which imagines a new image for African aspiration. Rhode's Girl with Skipping Rope, a sequence of six photos depicting a young girl interacting with a mural, was made in the ancient biblical city of Jericho. 
A Collaborative Auction Bringing in External Expertise
Curatorial Voices is a collaboration between Strauss & Co's Kirsty Colledge and Kate Fellens and curators Dana Endundo Ferreira, Founder and CEO of Pavilion54 from the Democratic Republic of the Congo, Heba Elkayal, independent curator and art historian, based between UK and Egypt, Danda Jaroljmek and Anne Kariuki, Circle Art Gallery, Kenya, Valerie Kabov, Director, First Floor Gallery Harare, Zimbabwe, and South Africa's Kimberley Cunningham, Founder of Cunningham Contemporary. Serge Tiroche, Founder and CEO of Africa First, Israel, joins the group of guest collaborators for Profile of a Collector, an in-session focus underscoring the role that individual collectors can play to bolster and support the market.
"The goal of this new sale is to underscore the importance of greater collaboration across Africa," says Kate Fellens, joint Head of Sale for Curatorial Voices. "Through working together we look to strengthen the infrastructure between us. From Cape Town to Cairo, from Lagos to Harare, in order for the African art market to sustain itself in the longterm, these type of collaborations from within become crucial." 
Updated to Reflect Prices Achieved at Auction