"Art is a human virtue and I have given my whole self to it, for it promotes understanding among races rather than destroys it."—Gerard Sekoto
27 Feb 2023
Curatorial Voices: Modern and Contemporary Art from Africa is a dynamic collaborative project conceived by Strauss & Co to address the need for a diversified representation of artists from across the African continent in the secondary market.
Curated by Strauss & Co Heads of Sale, Kirsty Colledge and Kate Fellens, with input from seven international art experts with embedded knowledge of Africa, Curatorial Voices presents collectors with a broad selection of work by leading contemporary artists alongside select pieces by important historical artists.
Curatorial Voices includes work by artists from Benin, Cameroon, the Democratic Republic of the Congo, Egypt, Eswatini, Ghana, Kenya, Mozambique, Nigeria, Rwanda, Senegal, South Africa, Sudan, Uganda and Zimbabwe. The timeframe of the works assembled extends from the late 1940s, a time of ferment and change across the African continent, to the confident present. The inclusion of modernist artists such as Gerard Sekoto (South Africa) and Pilipili Mulongoy (DRC) is especially important to Strauss & Co, which has long excelled at bringing important historical work to market. The cross-continental offering of modernists in – the sale provides context to the artistic foundations of today's vibrant market for contemporary art.
An in-depth look at the works by Gerard Sekoto included in the sale
Two months before Gerard Sekoto's departure to Europe, Prayer in Church (Sold at auction for R3 431 250) – a highlight in the upcoming Strauss & Co auction – was exhibited at the Gainsborough Galleries. This was an important exhibition for Sekoto, who had already decided to leave for Paris to follow his dream of living in the art capital of the world amongst the post-impressionists who inspired his work. The exhibition was intended to raise money -to fund his move to Paris. Two months later, he painted his famous Self Portrait (1947) on the ship sailing towards his new home. He never returned to South Africa.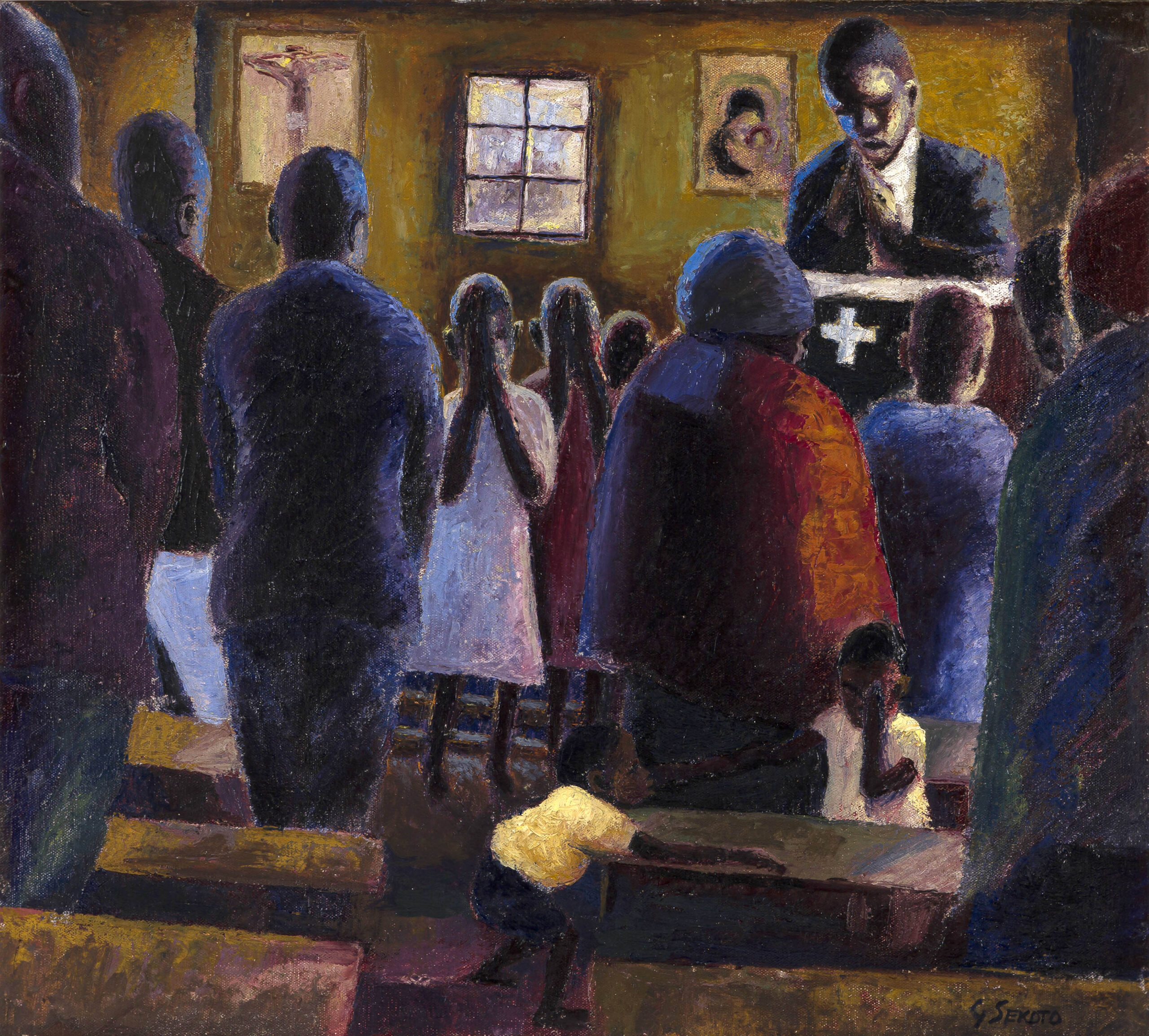 Prayer in Church derives from the period he spent in Eastwood, a settlement on the eastern municipal boundary of Pretoria, between 1945 and 1947. Paintings from this brief period represent the high point of his artistic career and are highly sought after by collectors. -This important work is one of only a few works portraying a religious scene by the artist and the only recorded interior of a Church. Sekoto, as well as his parents, were born on a Christian mission station thereby prohibiting any exposure to traditional spiritual belief systems. Christian faith and its modernising imperatives played an important role in Sekoto's early life, as well as intellectually framed his cosmopolitan depiction of black urban life. Yet, Sekoto's strict Christian upbringing did not result in a life devoted to the church or its beliefs, but rather in a philosophy which Chabani Manganyi describes as having turned his pursuit of art into a kind of personal worldly religion.1
The reference to his religious upbringing in the present lot possibly reads as a memory of this childhood. More importantly, it unearths a crucial problematic by-product of colonisation in South Africa —the long-term cultural influence and impact that Christian missionaries had on the native population of Africa.
Similar to masterpieces like Sixpence a Door (1946) and Song of the Pick (1946), the vantage adopted in Prayer in Church is snapshot-like. Sekoto is at once a removed observer and an engaged participant. His church scene showcases his flair for distilling the essentials of an encounter: the formal attire of congregants, their separation by gender and age, the devotion of the priest and adolescents flanking him, the church's modest furnishings and décor, the bored toddlers at play.
A similar attentiveness to the particulars of domestic life is evident in Mother and Baby (Sold at auction for R519 863). This intimate interior study, notable for its liquid blues, shock of orange, and feathery brushwork, wonderfully adapts and complicates a familiar trope of religious painting, the mother and child study. Sekoto diligently itemizes the wardrobe of the absent father, whose jacket is the subject of fascination and supplication by the partially clothed babe.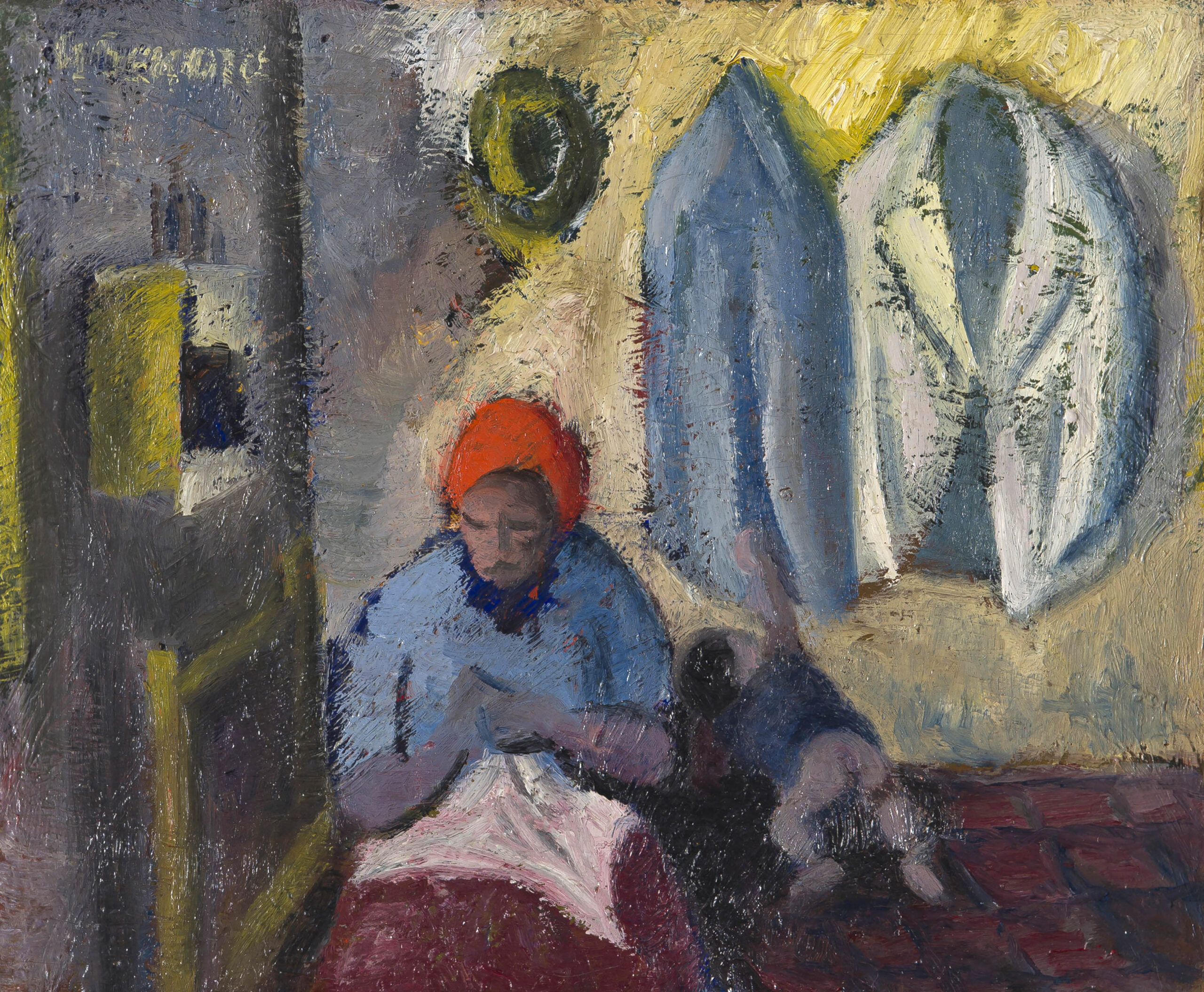 Gerard Sekoto is recognised as a pioneer of black South African modernism. He was born at Botshabelo Lutheran mission station in Mpumalanga in 1913 and studied at Grace Dieu, an Anglican training college for black schoolteachers. He worked as a teacher until 1939 when he moved to Johannesburg to pursue a career as an artist. He was part of a small cohort of black artists who achieved prominence in the interwar years, before the start of high apartheid in 1948. Sekoto lived in the vibrant multiracial communities of Sophiatown and District Six and the rich colour of his paintings from these times capture the reality of living with sensitivity, dignity, and a sense of calmness despite the harsh realities of life under apartheid. His aptitude for colour, form, mood, and movement all cohered into a compelling unity during this period.2 Sekoto lodged with his mother and stepfather in Eastwood (his father, Andreas, died in 1938). Already attuned to describing aspects of black urban life from his sojourns in Sophiatown and District Six, Sekoto concentrated on scenes of collective labour, reverie, and domesticity, less so religious ceremony. Sekoto went into self-imposed exile in Paris in 1947 where he worked as an artist and musician until his death in 1993. He was designated a Chevalier des Arts et des Lettres by the French government and posthumously received the Order of Ikhamanga for achievement in the arts from the South African government.
Edited to reflect prices achieved at auction.
References
1. Chabani Manganyi (2004) Gerard Sekoto: 'I am African', Johannesburg: Wits University Press.
2. Lesley Spiro (1989), Gerard Sekoto: Unsevered Ties. Johannesburg, Johannesburg