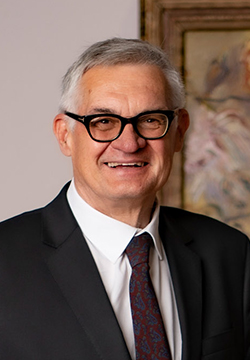 Wilhelm van Rensburg
Senior Art Specialist & Head Curator
Wilhelm van Rensburg (b.1958, Johannesburg) is a prolific champion of art whose output marries scholarly research and critical writing with curating. He has organised important exhibitions for Irma Stern, Judith Mason, JH Pierneef and, most recently, Christo Coetzee.
After completing his Bachelor of Arts at the University of Johannesburg in 1981, Wilhelm began teaching at high school, later moving to lecturing at universities and furthering his studies in education. He was a senior lecturer in the Department of Curriculum and Instruction at the University of Johannesburg (2001–09) and has been a part-time lecturer in the Faculty of Art Design & Architecture at the same institution since 2010. Early on, though, Wilhelm decided to complement his academic career in education with writing, curating and dealing. He was the chief art critic for Beeld newspaper (1993–2003) and continues to write extensively about art. Wilhelm was co-director of Gallery Art on Paper (2006–16), an independent-minded gallery that presented shows by important historical and contemporary artists.
Wilhelm has a long-standing relationship with Standard Bank Gallery, for whom he has organised major survey exhibitions for Irma Stern (2003), Judith Mason (2009), JH Pierneef (2015) and Christo Coetzee (2018), as well as curated the educational programme for the exhibition Henri Matisse: Rhythm and Meaning (2016). In addition, he curated Mail Art/ists' Books at the Jack Ginsberg Centre for Book Arts (2023) and has written articles for the annual De Kat publication on Contemporary African Art (2021), Contemporary South African Ceramics (2022) and Outsider Artists in South Africa (2023).
Wilhelm has played a key role in Strauss & Co's client outreach including his curated exhibitions at the Turbine Art Fair. Life Force: The Still Lifes of Irma Stern (2018) was the first major survey of Stern's enigmatic still lifes, while Pierneef: A Collector's Passion (2017) showcased the remarkable Pierneef holdings of a private collector. These projects contributed to Strauss & Co receiving the 2018 Chairman's Premier Award from Business and Arts South Africa. Wilhelm has also organised the Strauss & Co sponsored talks programme at the annual Woordfees in Stellenbosch each year since 2021.
Since 2019, Wilhelm has curated five notable annual legacy exhibitions at Strauss & Co: The Meeting of Minds: Louis Maqhubela & Douglas Portway (2019); Parallel Lives: Gladys Mgudlandlu & Maggie Laubser (2020); Social Stances: George Pemba & Robert Hodgins (2021); Invisible Connections: Mary Sibande & Dorothy Kay (2022); and the Sydney Kumalo & Ezrom Legae Retrospective Sculpture Exhibition (2023)
Wilhelm joined Strauss & Co as an Art Specialist in 2016. He works out of our Johannesburg office. Wilhelm is qualified to address any enquiries related to Paintings, Watercolours, Drawings, Prints, Sculpture and New Media on behalf of Strauss & Co.