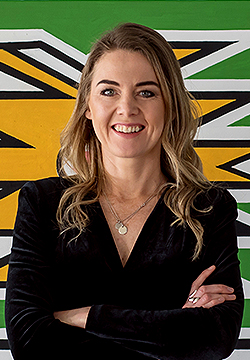 Kirsty Colledge
Senior Art Specialist
Kirsty Rich Colledge is a passionate champion of painting, a dynamic medium that remains the foundation of Strauss & Co's business. Her training as a painter has gifted her with unique insights and familiarity with the medium. Her love and knowledge of paint, in particular its tactility and varied applications, are important skills in handling top-quality paintings on a daily basis at Strauss & Co.
Kirsty received her Bachelor of Arts in Fine Arts, with a major in painting, from the Michaelis School of Fine Art at the University of Cape Town. She then endeavoured to combine her artistic skills with those of the business world, completing a Postgraduate Diploma in Enterprise Management at the University of Cape Town in 2009.
Kirsty has worked in the Paintings Department at Strauss & Co's Cape Town office since 2011. She is qualified to address any enquiries related to Paintings, Watercolours, Drawings, Prints, Sculpture and New Media on behalf of Strauss & Co.