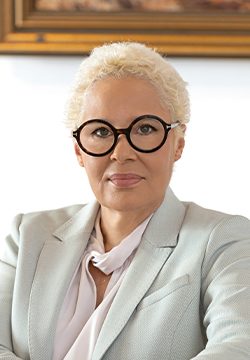 Khetiwe McClain
Client Advisory Executive Director
Khetiwe McClain has a deep-rooted interest in art. This started very early in her life. Her studies include a course in Mannerism at the European University Institute, Villa Schifanoia, Fiesole, Tuscany, Italy, the completion of the Lyceum certificate at the Instituto D'Arte in Perugia, four years in Fine Arts at the Academia di Belle Arti, Pietro Vannucci of Perugia, Italy, followed by two years at the University of Florence, Italy, where she studied architecture.
After completing her studies, Khetiwe worked at the South African Embassy in Rome in the Trade and Multilateral Sectors. As part of her role at the Embassy post-1994, she was involved in the planning of cultural activities, including curating art exhibitions for the Embassy in various parts of Italy.
She returned to South Africa in 1999 and has over twenty years' experience as a leading woman in the mining sector. Building on her background promoting the export of South African products and facilitating bilateral trade initiatives between South Africa and Italy, Khetiwe spearheaded jewellery-making projects with emerging jewellers, and collaborated with Sotheby's to partner top British designers with rural South African crafters, which resulted in the end products being showcased in London. Her eye for detail and commitment to empowering unrepresented artists resulted in her selection as a judge for the De Beers Shining Lights Awards for young diamond designers in the early 2000s.
Khetiwe has held several key positions in the mining sector, including being the executive in charge of mineral beneficiation and socio-economic development at Harmony Gold and being a member of the Industrial Development Corporation's Committee Agency Development and Support Steering Committee. She has also continued to hold several key Board positions, some of which are listed companies, in both executive and non-executive capacities. Khetiwe has traveled widely and has built an extensive network of artists and art aficionados across the continent and beyond. She has come full-circle and has returned to work in her primary area of interest and expertise. Khetiwe joined Strauss & Co as Client Advisory Executive Director in July 2023.