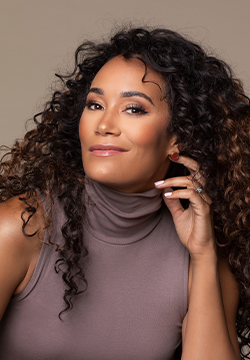 Jo-Ann Strauss
Non-Executive Director
As Master of Ceremonies and International Speaker, there are few people who can boast the varied and successful career which Jo-Ann Strauss has built up over the past 23 years. She has hosted international events from Barcelona to Dubai, chaired a panel discussion with global entrepreneur, Sir Richard Branson, and hosted the first charitable fundraiser in Monaco for Her Serene Highness, Princess Charlene. In addition to hosting the largest amateur golf tournament in the world from Mexico to Mauritius, she has hosted the Conde Nast International Luxury Conference with Vogue's Suzy Menkes, and VIP events for BMW International at the Ryder Cup in Paris, and will do so again in Rome in 2023.
Jo-Ann has been the brand ambassador of Lufthansa, Samsung and BMW in South Africa, and has held positions as a Board member for Media24 (Africa's largest media company), M&C Saatchi Abel advertising agency, and has been on the advisory board for the University of Stellenbosch Business School. She served as a UNICEF Goodwill Ambassador and has designed a clothing range which has raised funds to feed over 8000 families.
Jo-Ann has been Master of Ceremonies for bespoke brands on five continents and has traveled extensively as a television host and producer. Her innate sense of style has earned her numerous awards and appearances on magazine covers. She is passionate about entrepreneurship and creating an environment in her home country which helps people grow their own businesses. She is currently mentoring fifty women to whom she has given online bursaries to study through two of Africa's top business schools.
Jo-Ann is not only a very successful business woman,  but also has four young children with her husband, and has a notable social media following of her inspirational micro-blog called "Modern Mommy", and #SocialStar, a media property that enables young influencers to carve profitable and sustainable businesses in the new sphere of media.
Jo-Ann Joined Strauss & Co as a Non-Executive Director.