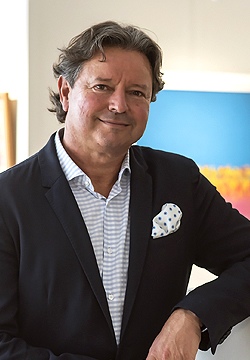 Frank Kilbourn
Executive Chairperson
Frank Kilbourn (b. Ventersdorp) is a respected business entrepreneur whose love for art is matched by his exceptional philanthropy. A brilliant student, Frank holds separate degrees in Law, Commerce and Philosophy. He began his professional career as an articled clerk and practised as an attorney until 1991. After a period at Standard Corporate and Merchant Bank, he joined Sun International in 1995. He founded the Bright Group of companies in 2002, focusing on private equity and venture capital. He is also the co-founder of the Bright Foundation, a public benefit organisation involved in education, nature conservation and promotion of the arts and culture.
Frank and his wife Lizelle began collecting art while students at the University of Johannesburg. Initially an accessory pursuit, it has since matured into a family mission to build a representative collection of modern and contemporary South African art. The core of the collection is made up of paintings and includes important works by Irma Stern, Walter Battiss, Cecily Sash, Christo Coetzee and Robert Hodgins. Of the view that private collectors should make their collections available for public viewing, Frank has co-hosted a fundraiser exhibition of his work at the historical Cape home of Welgemeend. His foundation has also co-sponsored several exhibitions and publications by South African artists, including John Kramer and Paul Emsley.
In addition to his Bright Group activities, Frank also serves on the board of City Lodge Hotels Ltd, in the capacity of head independent director. He was chairperson of the South African Tourism Board until 2014 and chaired the Jan van Riebeeck Primary School Board of Governors, also until 2014. He is a co-owner of Grootbos Nature Reserve near Gansbaai, a trustee of WWF (South Africa) and was a member of the advisory panel of the Centre for Business in Society at University of Stellenbosch Business School.
Frank was appointed Chairman of Strauss & Co in 2016. His flair in business, passion for philanthropy and longstanding participation in art auctions made him a logical choice to succeed Strauss & Co's former chairman, Elizabeth Bradley.