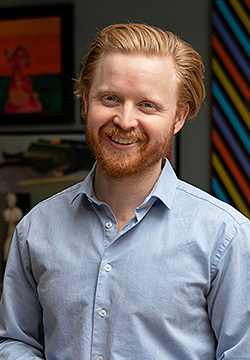 Dr Alastair Meredith
Head of Department, Senior Art Specialist
Alastair Meredith (b.1984, Johannesburg) is a passionate auctioneer with extensive scholarly knowledge of early twentieth-century South African and British paintings. A skilled communicator, he has delivered numerous public lectures and also conducted many auctions.
After completing his Bachelor of Arts (Art History and English Literature) at the University of Edinburgh, Alastair attended Cambridge University where he completed both his Master's and Doctoral degrees. It was his PhD research into the life and work of the Cape Town-born painter Jan Juta, also an accomplished muralist and designer, that first brought Alistair to the attention of Strauss & Co's late Managing Director, Stephan Welz. He was shortly afterwards offered a job. Alastair's scholarly knowledge, paired with his skills as a lecturer and teacher, make him brilliant at contextualising artists and their work.
Since joining Strauss & Co in 2014, his professional interests have expanded to include the curatorial aspect of displaying and cataloguing artworks. Harnessing his sensitivity as a researcher and nous as an auctioneer, Alastair now spearheads an on-going initiative at Strauss & Co to champion, at auction, neglected artists and stylistic movements from the twentieth century. These sales include a comprehensive overview of KwaZulu-Natal art (2017) and 'Unsung History' (2018), a sale of paintings and sculpture from 1910 to 1990. He is skilled at perceptively gathering works for these sales in a manner that fulfils the expectations of sellers while presenting buyers with new insights into South Africa's astonishingly diverse art history.
Alastair was appointed head of Strauss & Co's Johannesburg art department in 2017. He works out of our Johannesburg office. He is qualified to address any inquiries related to South African and British Paintings, Watercolours, Drawings, Prints, Sculpture on behalf of Strauss & Co.