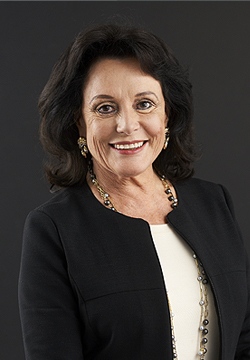 Caro Wiese
Non Executive Director
Caro Wiese (b. Windhoek) is a discerning Cape Town collector and publisher whose interest in art and social history was nurtured at a young age. Caro was born into an influential political family. Her father was the well-known politician and journalist Jacob Daniel Du Plessis Basson. Despatched to Windhoek as chief secretary of the United National South-West Party in the late 1940s, it was in Namibia that Caro's mother, Clare, introduced her to esteemed local painters like Adolph Jentsch, Fritz Krampe and Otto Schröder. Works by these modernist landscape painters are represented in her personal collection. Caro's interest in art is augmented by her passion and commitment to music and books.
After completing her Bachelors of Art (English and History) at the University of Cape Town, Caro spent a year working at the South African embassy in London. In 1973, she took up a job as an editor at the Afrikaans-language publishing house Human & Rousseau. Two years later she married Christo Wiese, an Upington-born retail entrepreneur who – like her father – is a law graduate of Stellenbosch University. In 2004, she established the private imprint Politika committed to gathering and publishing her father's extensive political writings. Five books have appeared to date. Her art collection is another personal pursuit. Largely focussed on mid-twentieth century South African artists, it includes paintings by Irma Stern, Alexis Preller and Walter Battiss, and sculptures by Lippy Lipshitz and Gerard de Leeuw. Christo Coetzee was a childhood family friend. Caro has assembled a large holding of this abstract painter's work, including an assemblage work exhibited at the Museum of Modern Art in 1961.
Caro was appointed a Director of Strauss & Co in 2015. Caro's tact and prudence, coupled with her vast historical knowledge, are her distinguishing hallmarks, which Strauss & Co is grateful to draw upon.