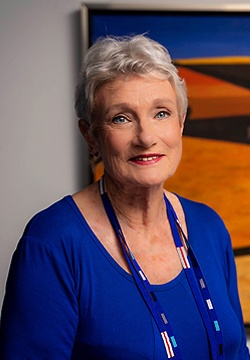 Ann Palmer
Senior Art Specialist
Ann Palmer is a stalwart of South Africa's art and auction industry. She closely worked with industry doyen Stephan Welz for three decades and possesses considerable knowledge and insight into the auction business in South Africa.
Ann immigrated to South Africa in 1964, and began her career by working for various art galleries in the 1970s. She served on the council of the Friends of the South African National Gallery, a voluntary organisation based in Cape Town, for 15 years. In 1990, Ann joined auction house Stephan Welz & Co, then associated with Sotheby's in London, and has been involved in the auction industry ever since. Ann assisted Stephan Welz with numerous important sales, including 1991 sale of rare Le Vaillant folio editions owned by Sir Alfred Beit.
Ann was delighted to join Stephan Welz in his new venture, Strauss & Co, at the beginning of 2009, as a Director and Head of Paintings department. She was appointed Director Emeritus of Strauss & Co in 2016. She works out of our Cape Town office. Her areas of expertise are extensive and include South African Paintings, Drawings, Prints and Sculpture.