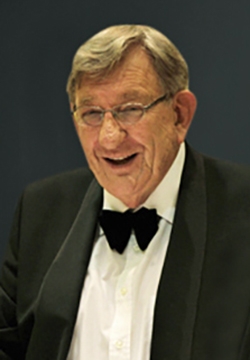 Stephan Welz
Former Managing Director
Stephan was the longest practising fine art expert and auctioneer in South Africa with over 35 years of experience with Sotheby's in London, Amsterdam and South Africa. He had a vast knowledge of South African art and antiques making him the most respected "Generalist" in these fields. He had presided over most of the major South African art and antique auctions and holds the most auction records.
---
Obituary
Stephan Welz, the renowned art auctioneer who passed away on 25 December at age 72, was distinguished by his tall, rugby-player physique and air of unforced confidence around art. Welz's assured and charismatic manner, coupled with his wide-ranging knowledge of South African painting and sculpture saw him rise to the top of his profession. Central to Welz's decades-spanning success as South Africa's go-to expert and auctioneer was his longstanding association with the world of art and artists.
Born in 1943 in the Breede River Valley town of Worcester, Welz was the third of five sons born to émigré parents Jean Welz and Inger Christensen. A family photograph included in Elza Miles's 1997 monograph devoted to Welz's father, an Austrian-born architect who in later years excelled as a painter, shows the future auctioneer, aged three, with his father in the Hugo Naude Art Centre where he gave lessons.
Welz's aesthetic education, the foundation of his professional achievements, was decisively influenced by his proximity to artists. This fact is beautifully illustrated in a 1948 oil painting by Jean Welz entitled Bathers, White River, Ceres. The painting depicts five-year-old Stephan playing next to a river in the company of his younger brother Martin (best known as the publisher of Noseweek), his Danish-born mother (a journalist who in South Africa turned her hand to running a gallery), and Free State-born expressionist painter Cecil Higgs.
Speaking decades later, in 2007, Welz warmly recalled Higgs and her gift of a budgie to him as a child. He also remembered an overnight stay at painter Gregoire Boonzaier's home, an early champion of his father's austere but lyrical paintings. Irma Stern – who, along with JH Pierneef and Maggie Laubser, Welz once described as "names to conjure with" – was also a frequent houseguest. In an aside typical of Welz in his later years, he once smilingly recalled his mother remonstrating with painter and mischief-maker Walter Battiss when his fondness for nudity got the better of him during a visit to the Welz family home.
Welz's formal education in the art business began in earnest after his decision to move upcountry. During the late-1960s he held an administrative position in UNISA's fledgling art department in Pretoria. He worked alongside Battiss. Welz was a first-hand witness to his mentor's transformation from respected modernist painter to Fookian trickster when, in 1967, he attended Yes-No, Battiss's landmark happening in Pretoria. The exhibition included cellophane-wrapped drawings and watercolours displayed in a darkened venue.
Welz's decision to pursue a career in the art business coincided with two notable trends: the professionalization of the local marketplace for art, and the uptake of influential Euro-American changes in the form of art. Painting and sculpture, his metier, were increasingly challenged by new modes of expression. It prompted a bemused smile from Welz, who in 2010 quantified the changes: "Feathers, newsprint, animal carcasses, found objects etc. stuck to anything which comes to hand, embalmed in formaldehyde or carefully scattered about a room." Despite his reservations, Welz was nonetheless supportive of new art and successful presided over record achieving sales of key works by contemporary artists, notably in 2015 sculptures by Jane Alexander and Ed Young.
In 1970, shortly after obtaining a commerce degree from UNISA, Welz joined Sotheby Parke Bernet, a new auction house established by Reinhold Cassirer and Jane Harraway in Johannesburg. It was a decisive move. Cassirer, a German émigré married to novelist Nadine Gordimer, is remembered for overhauling the image of auction houses locally. Welz, his key protégé, inherited the mantle when, in 1980, Cassirer retired to pursue other interests.
Welz held the reins until 2006, when he sold the company, which since 1987 had been named Stephan Welz & Co following a management buy-out from Sotheby's. During this 26-year period Welz presided over the incredible growth in interest and value of South African art at auction. In 1981, Welz for example knocked down sculptor Anton van Wouw's 13cm bronze Mineworker with Machine Drill (1926) for R80 000. It was a record-price for a South African artwork sold at action. This year he sold a rare early Van Wouw bronze, Mineworker with Hand Drill (1911) for R4.2 million.
The 1980s saw Welz's affable manner as head auctioneer at Sotheby's gain him increasing public notice. Welz's reputation as a charismatic man of art, someone able to speak about his trade in a jargon-free manner, later also earned him a slot on the popular television programme "Trommel", and more recently on "Antikwaar".
These promotional asides did not in any way interfere with Welz's commitment to the job at hand: connoisseurship, and the pursuit of this core value through the organisation of benchmark sales offering handpicked collectables. He also intermittently published. His debut book, Cape Silver & Silversmiths (1976), is now regarded as an authoritative study of silversmiths operating in the Cape from late 17th to mid-19th century. It was followed by two book-length reviews of the art auction market, published in 1989 and 1996.
The new millennium witnessed a distinct shift in the art market, both globally and in South Africa. "More people are collecting art now than at any other period in history, and from a wider spectrum of artists and mediums," observed Welz in a 2003 press interview. The increasing popularity of art – and by inference demand for it – saw Welz preside over yet another record when, in 2006, he knocked down a painting by Maggie Laubser for R4-million. It was a record sum paid for a South African artist at auction. Welz was stunned by the result.
In 2007, while supervising the sale of works from the estate of Cape Town collectors Jack and Helene Kahn, another landmark sale in his career, Welz questioned the misleading salesmanship underpinning the current boom in art. "Art is not an investment," he stated. "To my mind it doesn't meet the criteria or the definition of an investment. It doesn't pay a dividend. It doesn't bring you rent; it in fact costs you money to keep. It is not easily transactable. I prefer to call it a store of wealth and forget about the investment aspect completely."
As always, hawkish rivals debated and contested his opinion. Welz was however now happily involved with his herd of Tuli cattle on his farm Blomvlei at Tonteldoos, near Dullstroom. His expertise in these hardy, drought-resistant cattle is somewhat overlooked in appreciations of Welz's cosmopolitan character. He was also a man of the soil.
"There are no second acts in American lives," wrote the novelist F. Scott Fitzgerald. The same is probably true of South African lives, although not of Stephan Welz. In 2008, Welz came out of retirement to head up the new auction house Strauss & Co. His leadership of the company, which is owned by Elisabeth Bradley, Dr Conrad Strauss and his colleagues, was marked by a new series of career successes.
In a mere half-dozen years, Strauss & Co has emerged as the largest fine art auction house in South Africa and the global leader in the South African art market. The company holds the records for nine of the ten most expensive paintings ever sold at auction in South Africa. Shortly before Welz's death, he knocked down painter Alexis Preller's oil and gesso work The Creation of Adam I (1968) for R8.5 million. It set a new auction record for the artist.
But Welz was far more than a bottom-line businessman. He was a popular speaker at public events. In 2010, a few months after establishing a new auction record with the sale of an Irma Stern painting for R7.57 million, Welz gave an impassioned speech at the Rupert Museum in Stellenbosch. The occasion was the unveiling of painter JH Pierneef's well-known Station Panels. No wallflower, Welz nailed his colours as a patriot to the mast. His 3500-word speech, which was reprinted in its entirety by an Afrikaans daily, celebrated both Pierneef and the people who had been the bulwark of Welz's entire career: art collectors.
Looked at retrospectively, Welz's speech in honour of Pierneef offers a telling insight into its author. "He associated freely with people of different cultural, language and religious persuasions," said Welz of Pierneef, "and counted many highly respected, cultured people … amongst his closest friends." The same was true of Stephan Welz, a colossus of a figure who throughout his life embodied the spirit of artistic cultivation and fellowship learnt so early on from his parents. He will be remembered for his integrity, humility and brilliant sense of humour.
Stephan Aage Welz, born 13 April 1943, died 25 December 2015, is survived by his wife Carmen, with whom he celebrated 50 years of marriage in June this year, his son Konrad, daughter Tanya, and two grandchildren.