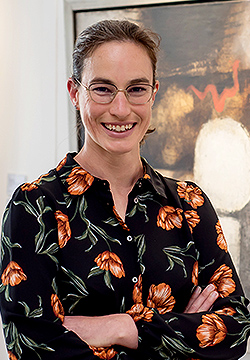 Sophie-Louise Fröhlich
Specialist
Sophie-Louise Fröhlich joined Strauss & Co. Fine Art, South Africa, as a Specialist, Decorative Arts, in March 2019. She previously worked for Stephan Welz & Co. Fine and Decorative Arts in South Africa, becoming a Senior Specialist, Office Manager and an Auctioneer during her ten years with the company.
She is a graduate of the University of Cape Town where she obtained a BMUS degree with a major in Classical Studies and History of Art in 2005, and an Honours Degree in History of Art in 2017. Her honours degree research project focused on concepts of originality in paintings and the processes used in attribution and authentication, which assist in uncovering forgeries.
As an innovator at the Stephan Welz & Company, she introduced wildlife photography as an auction category, focusing on internationally renowned photographers, with a percentage of proceeds donated to charity. She was instrumental in the involvement of various exhibitions including 21 Icons, Young in Prison and the Greg du Toit Wildlife Exhibition and handled various private owner collections during her tenure.
She participated in her first house sale at Strauss & Co in November 2019, when the contents of the historic Harcroft Estate in Cape Town were auctioned off. She presented a lecture on the history of the home to an attentive audience and continues to hold these.
She was delighted to return to the podium as an auctioneer for Strauss & Co in October 2019.